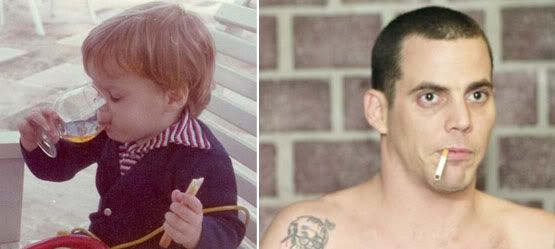 An actual photo of Steve-O drinking as a toddler, found on his myspace
Steve-O, the Jackass star who recently checked into rehab for his drug and alcohol issues, has posted a goodbye letter to drugs and alcohol on his official blog. Steve-O addresses his mother's alcoholism, and the fact he was given the alcohol as a child, which was not uncommon, it was often used to make babies sleep. Don't try this!
On his childhood exposure to alcohol:
Mom was very alcoholic, and I feel that is a gross understatement. I'd love to say that I first took to alcohol out of affection for my mother (there was never any shortage of that for me) but I think the truth is that I was always powerless over it. I know I was always powerless over alcoholism, because it had such a grip on Mom's adulthood and my childhood, and I never chose to fight it. Until now. Dad was a corporate executive whose job required the family to travel the world fairly extensively and both Mom and Dad were quite self conscious of how they were perceived by others. We were frequently on airplanes and, before Mom and Dad would find themselves in the embarrassing position of being caught by other passengers with a crying baby, I was fed alcohol.
[From Steve-O's myspace]
Steve-O also talks about his attempts to kick his vices, his abusive behavior towards loved ones, his belief in a higher power to help him (this is a very large part of most rehab programs), and the affect his addictions have had on his work, finances and personal life. He ends the blog with this statement.
A GOODBYE LETTER TO MY DRUGS OF CHOICE
At this point,
All you f'ing things are good for is dying. I'm not ready to die. I'm ready to live. I'm ready to breathe (properly, even). I'm ready to fall in love. I'm ready to become ready to start a family. I'm ready to be happy, fulfilled and meaningful. Maybe I'll see you fukkers if and/or when I'm ready to die.
[From Steve-O's myspace]
I really appreciate how hard it can be to kick an addiction after reading this letter. I hope you can get past your addictions Steve-O. It can take a lot work and many attempts to get beyond a drug and alcohol dependency.
Note by Celebitchy: I've been keeping up with Steve O's blog and he seems like he's coming to terms with his issues and trying to make sense of his life so far. He also comes off as a lot smarter and self aware than you might assume. We wish him the best.
These photos are from Steve-O's myspace of him as a baby and a kid.