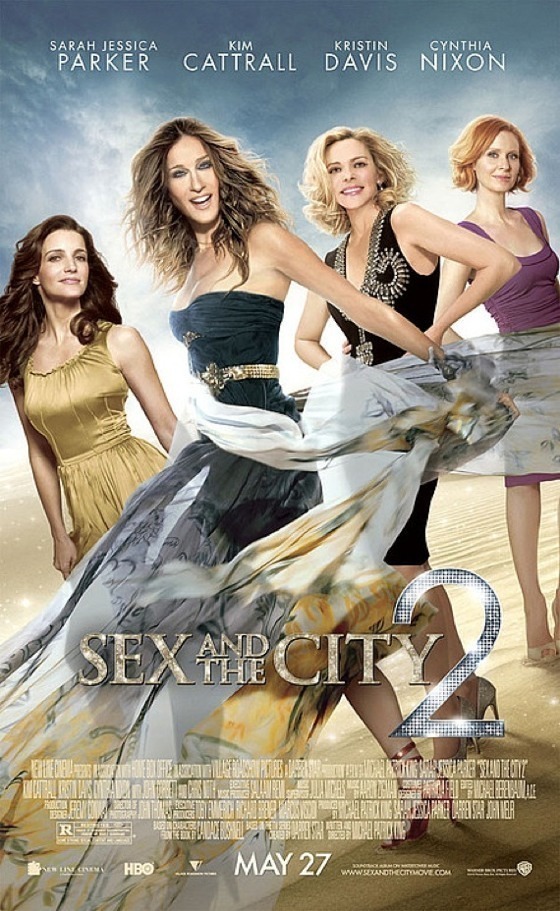 A few hours ago, Gawker put up a summary of some of the new reviews for Sex and the City 2, and to say that this film is a critical disaster might be the understatement of the year. Some of the highlights? Rex Reed's review in The New York Observer noted: "Sarah Jessica Parker looks better after her face mole was surgically removed, so why does her hair look like 20 pounds of mattress stuffing?" Here's more:
The only thing memorable about Sex and the City 2 is the number two part, which describes it totally, if you get my drift. Everything else in this deadly, brainless exercise in pointless tedium is dedicated to the screeching audacity of delusional self-importance that convinces these people the whole world is waiting desperately to watch two hours and 25 minutes of platform heels, fake orgasms and preposterous clothes. It is to movies what fried dough is to nutrition.

It has been two years since their last chick flick and in the interim, Carrie, Samantha, Charlotte and Miranda have turned from Cosmo girls who munch into cougar ladies who lunch. They still devote their lives to the credo that no crisis is ever so great that t can't be solved by a new pair of Manolo Blahniks, but now there's a difference. No longer waiting for orgasms, they're waiting for menopause, and in all four cases, they've found it. No film has ever contained so many sloppy hairdos soaking wet from hot flashes. Tired of being called the heterosexual equivalent of Armistead Maupin's gay West Coast lampoon Tales of the City in the San Francisco Chronicle, this installment opens with Carrie in a man's tuxedo, playing the best man at a gay wedding almost as vulgar as the homophobic one-liners about the minister, played by-are you ready?-Liza Minnelli, who parodies herself by telling the congregation, "Marriage is serious … or so they tell me," before blasting off with Beyoncé's "Single Ladies (Put a Ring on It)."

Dragging its deplorable carcass into infinity, Sex and the City 2 is so bad you can't even watch the trailer. Almost everyone who has ever appeared on the TV series reappears to mutter two or three lines that contribute nothing to the film they're in. The women-too old now to pout, whine and babble about their wet dreams, affluent and successful for reasons that are never clear-are all vain, narcissistic, selfish, superficial and really rather stupid. The actors work hard to perform triage, but they've been playing these roles so long they've grown moss. The insipid screenplay and catatonic direction seem chloroformed. Both are by Michael Patrick King. He's an expert at product placement and marketing (the end credits list hundreds of free plugs for everything from limousines to breakfast cereal), but I seriously doubt if he could direct Jeeps in the middle of the Mojave desert.

When all this greed pays off with millions in box office receipts, the hacks responsible for Sex and the City 2 will say, "I told you so." But that won't make the movie any better. You can't make caviar out of jujubes.
[From The New York Observer]
I also appreciated the NYDN's review, which included this gem about the Carrie character: "As if she can't help it, Carrie kicks up some trouble for herself after finding Aidan (John Corbett), now a married dad of two, in a souk. She's dressed as Glinda the Good Witch in a poufy skirt and "J'adore Dior" T-shirt, and she looks like a maniac. But the drama that ensues is so been-there, done-that, you wonder if she has an emotional imbalance that keeps her perpetually dissatisfied with life." That's what she's ALWAYS been like.
Oooh, here's another bitchy one from The Telegraph! The reviewer claims, "For one, the clothes are mostly dreadful. Sarah Jessica Parker looks like a cross between Wurzel Gummidge and Bride of Chucky; Miranda looks badly embalmed. In one scene, where the gang appear coming over a dune in the Arabian desert, they resemble a karaoke tribute act to the Village People. Worse, they don't act like a gang, appearing as awkward and semi-detached in each other's company as if they were attending a school reunion party. Is it because they're so much older and still carrying on like members of an Imelda Marcos-organised hen party? Or is that we're older, being asked by the government to tighten our belts and look askance at the spend-spend habits that got us into the current recession, to the extent that there seems something not so much escapist as straight-out vapid about Carrie and her pals?" Also at issue: how many times the word "sparkle" was used in the script!!! It's like the writers were reading about Robert Pattinson all day instead of working.
Also, on a personal note, I just wanted to apologize for offending some people with my earlier post about Sex and the City 2 and whether it would offend Muslims. I knew I was making gross (and in some cases, false) generalizations, but I still think my larger point is valid – this film is offensive because it replaces hyper-consumerism for genuine feminism and political, economic and social equality. It shouldn't just be offensive to Muslims, it should offend most people – and I think it's well on its way.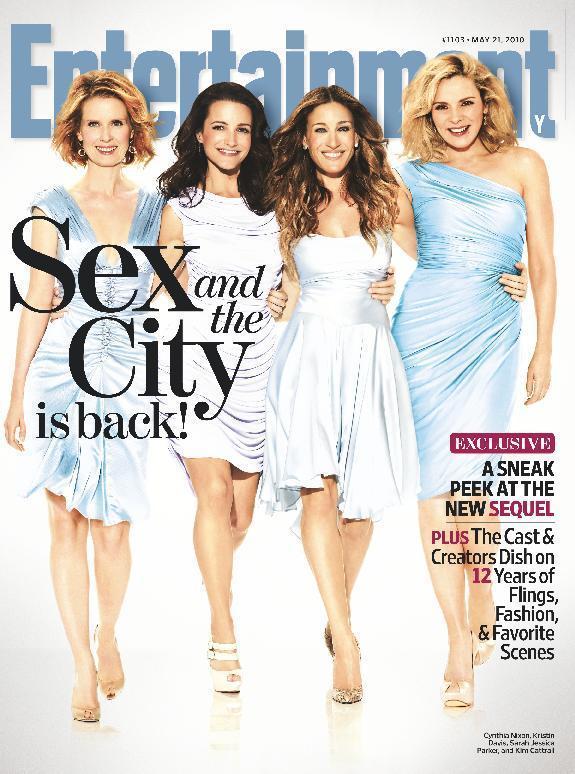 EW cover & poster courtesy of HuffPo.