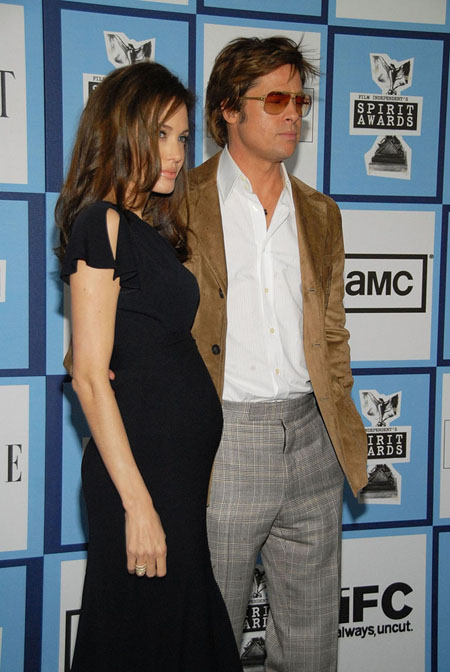 The "Angelina and Brad buy a French villa" story is false, according to the guy who owns the estate. This week's Star Magazine features "exclusive photos" of "Brad & Angelina $20M French Dream Home," but In Touch talked to the owner, who says he only wishes Brad and Angelina would take that money pit off his hands and doesn't know how the rumor got started:
Although US Weekly reported that the couple made an offer on the 850-year-old Mas de la Chappelle St. Sixte in the Provence region, the real owner, James Butler, tells In Touch… "I wish that it were true, but it's completely false. Don't know where they got that one. Our house is for sale, though. They are welcome to come look at it!"
[From In Touch, print edition, March 31, 2008]
This story had a lot of people, including us, speculating that Angelina would give birth to the Shiloh sequel(s) in France. US Weekly even added the convincing detail that "According to a second source, Jolie, 32, has had 'long conversations' with the American Hospital of Paris about delivering there."
It looks like US Weekly's "source" was wrong and that Angelina may chose a stateside location for the birth instead. OK! Magazine had the story in their March 17th issue that Angelina was probably planning to give birth in the suburb of Austin, Texas where the family is holed up while Brad shoots the film Tree of Life. OK! didn't claim to have much insider information, and just said that "it seems highly likely that the rapidly approaching birth of the second Jolie-Pitt biological baby will occur on American soil."
The Jolie-Pitts are also said to be building a house in Berlin, Germany and they already own an apartment there. Until the magical moment comes, we don't know where in the world the baby(ies) will be born and if Angelina will be inking domestic or foreign digits on her upper arm, or if she will be adding one line or two.