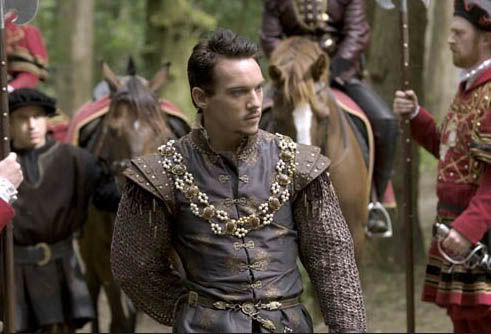 NY Magazine has a new interview with "The Tudors" star Jonathan Rhys Meyers, and the sexy androgynous actor is matter-of-fact about the steamy scenes in his Showtime series portraying life in Henry VIII's court. He says that all that sex was common among 16th century aristocrats because there wasn't much else to do, but that it's not that much different from the modern celebrity lifestyle.
[Henry VIII] Did seem awfully fickle with his women.
It's not just a case of him being fickle. You read magazines on supermarket stalls, and some movie star is dating this person and then that person and then that person, and people are like, "Why do they hop from one to another?" Because they can! It's that simple.

Do you feel like the show is over the top with all the steamy sex?
Oh, come on. Sex is sex. These people didn't have TVs, they didn't have cars, they didn't have iPods. They had sex. What else do you think they did?

Got drunk?
Well, what do you do today? Drink and have sex. You live in New York City. You go out Thursday, Friday, Saturday, Sunday. But also remember that in that time, sex was very, very important. Sex changed nations.

Why do you think Henry had so many affairs, knowing the stakes?
[Sigh.] Because men are men.

That's it? Can you think of another reason? Just another instance of wielding his power because he could.
You're confusing wielding his power with wielding his dick.
[From NYMag.com via The Huffington Post]
When asked for his thoughts about Governor Spitzer's fall from grace, the Scottish Irish-born Rhys Meyers says that Spitzer having to resign after that scandal broke borders "a little on the puritanical"
Speaking of the intersection of sex and power and politics, I assume you've heard over there in London about our governor's fall from grace?
Yeah, for having sex! Doesn't that border a little on the puritanical? If I know the story right, he had sex with a $15,000-a-night hooker.

I think their last liaison cost him $4,300.
Oh, so he was having sex with a cheap hooker.

God, I hope that's not what's considered cheap.
I don't know. I don't patronize hookers. But what I'm saying is, come on, look. Did your president not almost lose his presidency over a blow job? That would never have happened in Henry's time. Unless it was Henry's wife, giving a blow job to somebody else.
Kate Beckinsale said something similar on "The Late Show" last week. She told David Letterman that Spitzer's hooker affair wouldn't have been big news in England unless there was a diaper involved.
There is something to be said for the constant media persecution of Spitzer that happened after he was caught. You do understand how salacious a story it is and how anyone would jump on it. Investigative journalist Greg Palast points out that Senator David Vitter, a Louisiana Republican, did have a scandal where he was caught paying prostitutes to put him in diapers. Vitters is still in power and not much was made of his involvement when the Feds busted the prostitution ring that supplied him, but Spitzer, an outspoken opponent of you-know-who, had a very public downfall. Prostitution is still illegal, and politicians should be called out when they commit even minor crimes, but it doesn't seem quite fair that one guy took a fall while another one got a pass.
"The Tudors" season two premieres Sunday March 30th at 9pm on Showtime. You can watch the full first episode online now on the Showtime website. [No one has paid or contacted us for this promotion.]
Photos are stills from The Tudors, thanks to Showtime.com