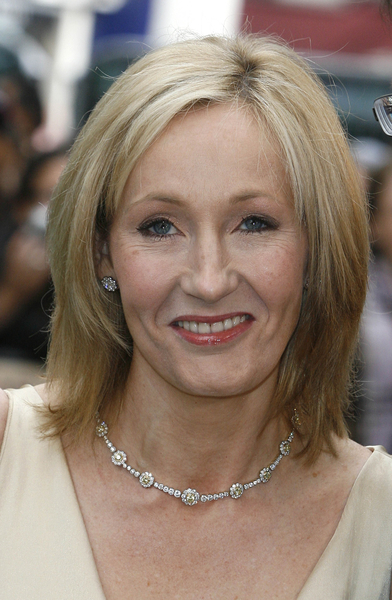 Every time I hear about another gold digger like Heather Mills, who just became a millionaire simply by divorcing her husband of four years, Paul McCartney, I try to think about women who became wealthy on their own merits, like author J.K. Rowling. I just love her story- a single mom on welfare who writes a novel about a boy wizard, becomes a sensation and ultimately a billionaire. Now, Rowling is opening up about her dark says as a single mom, admitting that she fell into a deep depression after her divorce and even contemplated suicide– but was determined to beat depression for her young daughter's sake.
Rowling… admits that she contemplated taking her own life back in the early 1990s, after separating from her first husband, Portuguese journalist Jorge Arantes.

"We're talking suicidal thoughts here, we're not talking 'I'm a little bit miserable,' " Rowling told [an Edinburgh University student magazine]

"Mid-twenties life circumstances were poor and I really plummeted," Rowling said, recalling friends had to help her pay the security deposit for her apartment rental – where she would eventually begin writing about the boy wizard, which would spawn a $14 billion industry.

"The thing that made me go for help was probably my daughter," said Rowling, referring to the then-infant, Jessica, reports the Telegraph. "She was something that earthed me, grounded me, and I thought, this isn't right, this can't be right, she cannot grow up with me in this state."

'Get Out' of Depression
Through a circuitous route – her regular doctor was away at the time of her crisis – Rowling eventually met with a therapist, who helped her "get out" of the depression.

"The funny thing is, I have never been remotely ashamed of having been depressed. Never," she says. "I think I'm abnormally shameless on that account because what's to be ashamed of?"

Seeking to remove any stigma that might be attached to seeking counseling, Rowing now advises all those suffering from depression to "go and get help."
I couldn't agree more- there should be no shame in admitting to depression and getting help for it. Just think how differently Rowling's life might have turned out if she hadn't! Hopefully it's a thing of the past for good for the author, and she is hard at work on her next book. Although, if I had to top the success of Harry Potter, I might be a little depressed myself.
Note by Celebitchy: Rowling has written another children's book, which she calls "political fairy story" and some short stories that may soon be published. She has no plans to write another Harry Potter sequel, but says she'll never say never.
JK Rowling is shown at the premiere of Harry Potter And The Order Of The Phoenix on 7/3/07, thanks to PRPhotos.