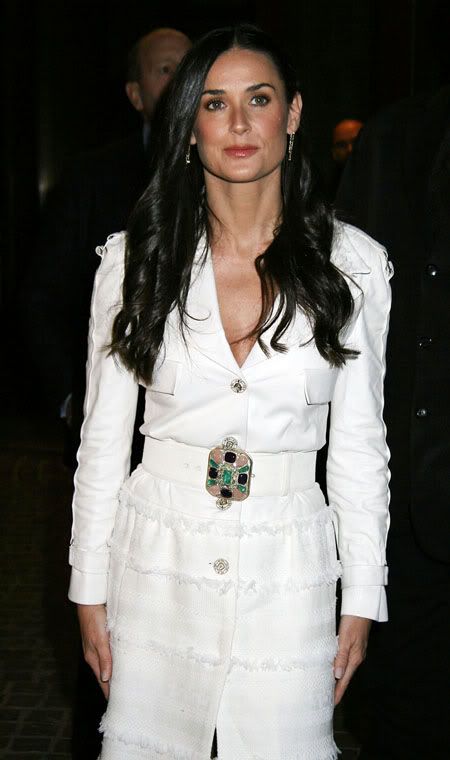 Demi Moore was on David Letterman last night and she joked around about receiving leech therapy treatment in Austria. She was cracking up about it, but she actually sounded like she believed in it and thinks it works. She also tried to get Dave to try it. Here's a rough transcript. Dave's comments are in bold.
You were in Austria?
I'm always…looking for the cutting edge on things that are for optimizing health and healing.

Just a week ago I was in Austria doing a cleanse and part of the treatments was leech therapy.

These aren't just like swamp leeches, we're talking about highly trained medical leeches… [laughing]

I know thousands of years ago they were common
Bleeding was a very common thing… it detoxifies your blood and they have a little enzyme that when they're biting down gets released into your blood, and generally you bleed for quite a bit, and your health is optimized. It detoxifies the blood. I'm feeling very detoxified right now.

Is it the enzyme is that what's critical?
They start in a spot for me that is a horrible spot, which is my belly button. They test it out. They are in a little jar with water and glass and they pull it out and they have to stick it in my belly button.

Where does this take place? At a hotel? At a clinic?
In this woman's house and I'm laying on a bed.

And she says "we're going to apply the leeches?"
Yes they do the little sampler first which is in the belly button and it crawls in. And you feel it bite down on you and you want to go "you bastard!" and then you relax and work on your lamaze breathing, and you watch it swell up and get fatter and fatter. And then when it's super drunk on your blood it just kind of rolls over like it's stumbling out of the bar.

Are you sure it's not menopause?
No, but I was going to recommend this for your tic.

You have to do a turpentine bath first.

Did you feel better after the leech deal?
You first feel worse, then you feel better.

You're not going back?
I am going back, because I only got 4 leeches and I feel a little cheated.

Clinically speaking how can we prove that you are more healthy after the leeches?
By a blood test. They can see the levels in your blood, if you're anemic… they release in their enzyme heparin, which is a natural blood thinner.
[Transcribed from Demi Moore's appearance on The Late Show, 3/24/08]
I've done acupuncture, colonics, moxibustion, which was when my Chinese doctor applied heat to the acupuncture, and hypnotherapy. About once a month I go to these awesome saunas they have here in Germany. They have the most amazing spas with saunas of different temperatures, some with music, relaxing lights, and scented oil. Now that's relaxing and detoxifying. It's also very affordable compared to a traditional spa treatment. I've haven't heard of leech therapy specifically for detoxification, and there's no way I would ever put leeches on any part of my body without being convinced to do for medical reasons by a qualified physician.
The way Moore tells this story about getting leeches put on in some woman's house brings out the cynic in me. It also sounds gross. Maybe there's something to it, though.
Medicinal leeches are making a comeback and I remember hearing a story about it a couple of years ago. The leech does have legitimate medical applications. Leeches can help with circulation and are useful in certain surgeries as they can improve blood flow to a specific site, such as when a finger or limb is lost and needs to be reattached. Leeches have one specific modern day application that Moore may have found beneficial. According to Wikipedia, leeches can "relieve venous pressure from pooling blood, especially after plastic surgery."
Moore was promoting her new heist film Flawless with Michael Caine, with whom she starred in Blame it On Rio. She said that at 75 Caine is still on top of his game, but that all he wants to do is get his work done so he can go out to the best restaurants afterwards.
Here's a clip of Moore explaining about the leeches:

And Moore's full interview (there are slight spoilers in the second half)
Demi Moore on The Late Show, 3/24/08, Part 1
Demi Moore on The Late Show, 3/24/08, Part 2
Demi Moore, her 14 year-old daughter, Tallulah, and her ex husband Bruce Willis and his girlfriend are shown at a screening of Flawless last night, thanks to WENN.