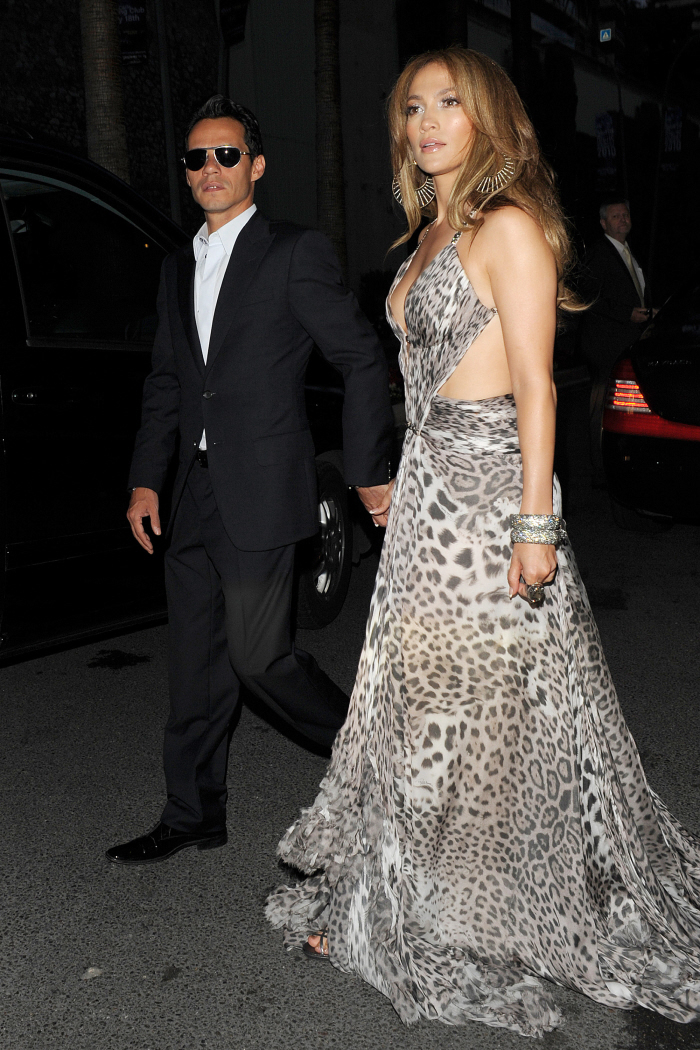 Mar Anthony did a short interview with Us Weekly to talk about his new album, Iconos, and he's totally sweet about his wife of six years, Jennifer Lopez. He calls Jennifer and the twins his "inspirations" and says Jennifer helped pick "every one" of the songs on his album: "She's always my muse. I look for her reactions." He also says that Emme is just as decisive as her mom, saying "Emme picked a couple [of songs]… she'd say 'Again! Again!' so I'd hold on to that one. Can't beat that." And Max is a drummer! Aw. I know it's fun to make fun of Marc and Jennifer, but I think they actually do have a pretty solid relationship, based mostly on Marc doing whatever Jennifer tells him to do, and him buying her lots of expensive sh-t. Still, solid marriage. So it's really not that surprising to hear that they're also going to renew their vows for their six-year anniversary:
And they said it wouldn't last!

For their sixth wedding anniversary, Jennifer Lopez, 40, and Marc Anthony — who first renewed their vows in 2008 — are saying "I do" again at their new Hidden Hills, California, estate June 5.

"We realized the bets in Vegas [on whether we'd make it] stopped at five years, so we're really looking forward to this one," Anthony, 41, joked to Hot Stuff.

"This is a big anniversary." And the fete will be a fine affair: "They even have a gift registry," a source says.

Meanwhile, the couple bought their 2-year-old twins, Max and Emme, abroad when they visited France's Cannes Film Festival. On May 20, Lopez and the kids were eating lunch at Hotel du Cap Eden Roc when Max threw ketchup at her.

"It got in her face," says an eyewitness, "but Jennifer kept her composure. She's clearly a really good, patient parent."
[From Us Weekly, online and print editions]
Of course they'll have a gift registry! That's the only reason they're getting their vows renewed! So they can get more sh-t. Oh, and because of love. And music. And attention. But mostly love, and getting presents.
By the way, did you like the story of Jennifer get food-bombed? I enjoyed that image. I don't think she's a bad mom or anything, and I doubt she would smack her child, but you know when she gets food on her face, there's some diva cursing involved.
Header: Marc & J.Lo on May 18, 2010. Credit: WENN.