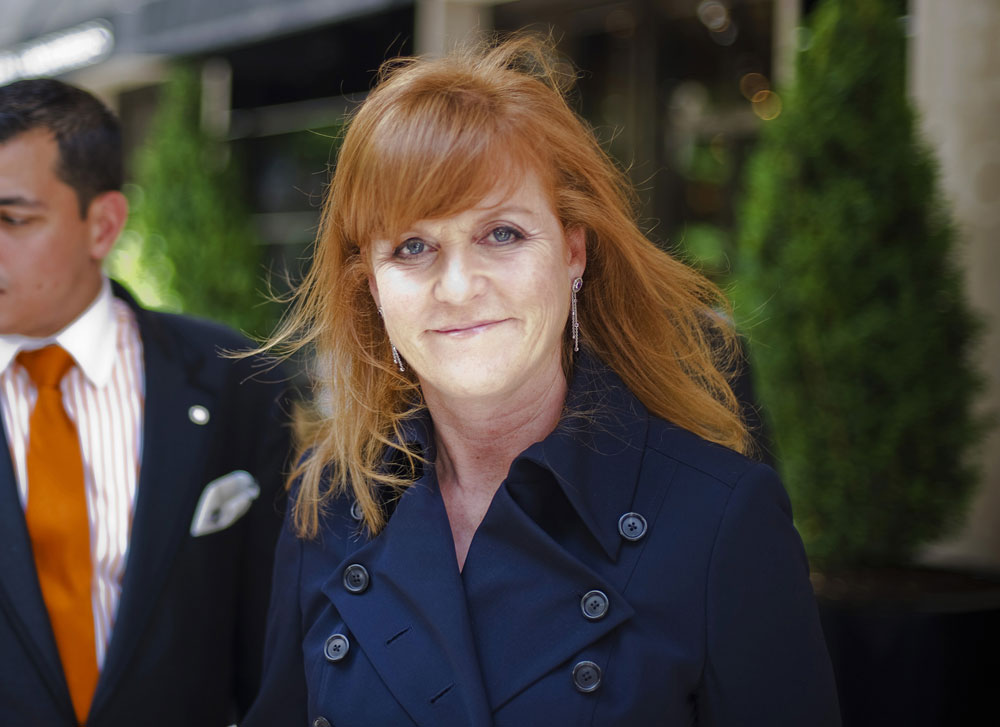 The former Duchess of York Sarah Ferguson was caught up in a bribing scandal about a week ago when a video surfaced of her soliciting a $750,000 bribe in exchange for a meeting with her ex husband, Prince Andrew. Andrew is the UK's "Special Representative for International Trade and Investment," which means that he makes business deals for England around the world. Fergie hasn't hidden from the scandal and both issued an apology admitting guilt and made pre-scheduled public appearances, including an ill-timed event honoring her charity efforts.
Fergie lives with Prince Andrew in a home in London provided for her by the royal family along with her daughters, Princesses Beatrice, 21 and Eugenie, 20. It's thought that Andrew has already forgiven Sarah and pledged that she can continue living with him as long as she would like. They've been called "the world's happiest divorced couple," and are said to be best friends.
Now the former Duchess is doing the ultimate in mea culpa interviews with a visit to Oprah. Her interview airs today, and advance details have her admitting that she has a drinking problem and that she's broke. I'm really wondering how much Prince Andrew was involved and if he either turned a blind eye toward her schemes or was complicit in them. In her apology, Fergie denied that Andrew had any knowledge of the bribe, and said he "was not aware or involved in any of the discussions that occurred." However, in the tape she told her would-be benefactor that "[Prince Andrew] knows that he's had to underwrite me up to now because I've got no money."
The devil — and booze — made her do it.

When Sarah Ferguson asked an undercover reporter for more than $700,000 in exchange for access to ex Prince Andrew — the chat was caught on tape — she was in dire straits indeed.

But has she seen the incriminating tape?

"I haven't faced the devil in the face, because I was in the gutter at the moment," the Duchess of York, 50, admits on the Oprah Winfrey Show in an episode airing Tuesday.

"I"m aware of the fact that I've been drinking, you know, that I was not in the right place."

Insiders close to the British "Fergie" tell Us Weekly that they weren't surprised by her bold, reckless act. "She's totally broke," one source insists. "Her desperation led to the lack of judgment."

The source adds that the mother of Beatrice, 21, and Eugenie, 20, is "a shopaholic, obsessed with designers like Chanel and Hermes…she didn't know how to stop living like a royal."

Her next step? "She wants to start fresh in America."

Fergie has even expressed interest in participating in the next Dancing with the Stars.
[From US Weekly]
We have just as much booze and shopping in America, maybe more so (because the stores and bars are open later!) than in England, so Fergie is going to have to face her demons no matter where she ends up. In the US she wouldn't be hounded as much by the press, though, because we have more minor celebrities to occupy us.
Last week, Bill Zwecker in the Chicago Sun Times claimed that a "very rich" British man offered Fergie "a posh Upper East Side apartment rent-free for a year." Zwecker also mentioned that Fergie said in a 2006 interview that she would love to do Dancing With The Stars. Maybe this scandal will help her get sober and back on her feet. She could have increased her celebrity factor enough to warrant a DWTS invitation. If celebrity mistresses can earn opportunities and notoriety, then Fergie can get some mileage out of a thwarted attempt to accept a payoff.
Sarah Ferguson is shown at a book signing in NY on 5/26/10 and out in NY on 5/25/10. Credit: Barcroft Media/Fame Pictures