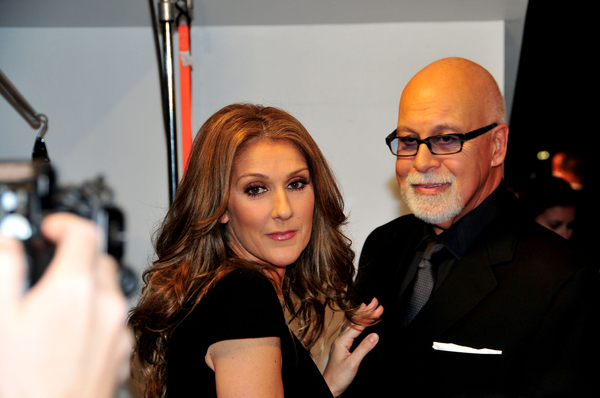 Celine Dion has been open and honest about her struggle to get pregnant at 41. She's suffered several failed IVF attempts and at least one miscarriage, after she announced an earlier pregnancy at just a few weeks along. Now Celine is pregnant – with twins! – and is 14 weeks along. It's likely that the twins are from Dion's own frozen embryos from a full nine years ago, when she went through a grueling six year IVF process to conceive her first child, son René-Charles, now nine. Back in December, 2008, Celine confirmed that she was trying to get pregnant and said she was using frozen embryos from the last process. When she was pregnant in August, 2009, (which sadly didn't take) her doctor confirmed that the pregnancy came from an embryo that was eight years old at the time.
Now that Celine is pregnant she'll tell you all about it, and about how hard it is. She says she feels like she's been pregnant for over a year and describes the IVF process as "physically and emotionally exhausting"
For Celine Dion, the sixth time was the charm, but her hope to expand her family was an arduous year-long journey.

"I feel like I've been pregnant more than a year," Dion, 42, whose previous IVF attempts had failed, told the French-language Le Journal de Montreal. "I never gave up. But I can tell you that it was physically and emotionally exhausting."

"Everyone knows that Celine has guts and is determined," adds husband, René Angelil. "These treatments were truly hard on my wife's body. It wasn't simple at all."

But the perseverance paid off when the couple found out they are expecting twins. "There were truly great emotions after all our efforts," says the singer.

Those efforts included traveling from her Florida home to New York for months of treatments and also turning to acupuncture from a Montreal-based specialist.

"My doctors had to constantly reassure me. I [wanted] to see the babies," she says. "Each week I had sonograms. I heard their heart beats."

Now, having already endured the ups and downs of several in-vitro fertilization attempts, Dion says she's following her doctors' orders closely.

"It's stressful but I'm relaxing. I look at my little belly. I do almost nothing," she says. "If you tell me I have to stay in bed,

I will stay in bed until November, when the babies are born. To bring them into the world, there's nothing more important than that. It's incredible."

Adds Dion: "We will have a beautiful family nest full of love."

And though the singer, who plans to kick off a new Las Vegas show next year, says she loves her career, she's realized that there's an even higher priority in her life.

"There are no accomplishments bigger than [being a mom]. The trophies and the money, that doesn't give meaning to life and that doesn't give you true happiness," she says. "A baby — yes."
[From CNN]
I love how open and honest Celine is and how she's sharing how hard it is to conceive. A lot of celebrities show up with a baby or twins after rumors of IVF and never admit the difficult process they went through. I know that's private, and it's entirely their business, but by sharing her struggles Celine is helping a lot of us understand what it entails. It doesn't sound easy, but the result is more than worth it. I hope everything goes smoothly for Celine with this pregnancy and that her family's prayers have finally been answered.
Celine Dion and Rene Angelil are shown on 2/16/10. Credit: Jay Kravetz/PRPhotos