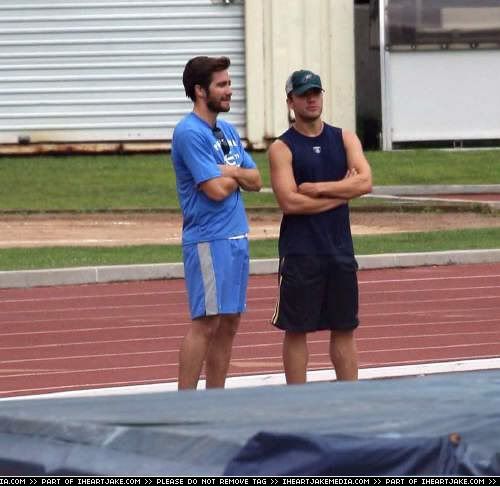 Jake Gyllenhaal and his costar weak Heath Ledger won the MTV Movie award for "Best Kiss" for their on-screen guy on guy snog in "Brokeback Mountain." Gyllenhaal joked during his acceptance speech that he told Ledger at the time that if they didn't win the award it wouldn't have been worth it. Gyllenhaal was a good sport and attended the ceremony, while Ledger stayed at home cowering from the paparrazi.
Gyllenhaal was recently linked with Natalie Portman after he was said to be dating an Olympic snowboarder. We just don't see it happening – either one.
Ryan Phillippe and his powerful sperm are going to star in the Iraq War drama "Stop-Loss" headed by "Boys Don't Cry" director Kimberly Pierce. Phillippe will play a soldier who refuses to return to Iraq after being called back to battle unfairly. This is a big opportunity for Phillippe and should help his faltering Hollywood career.
We needed a filmsy excuse to publish these pictures of Jake Gyllenhaal and Ryan Phillippe working out with the same trainer. If only they were high resolution and we could zoom in the pics of Phillippe wiping his sweaty face with the bottom of his shirt.
(We are totally ripping off The Bastardly's favorite expression in that headline.)
Pictures [via]