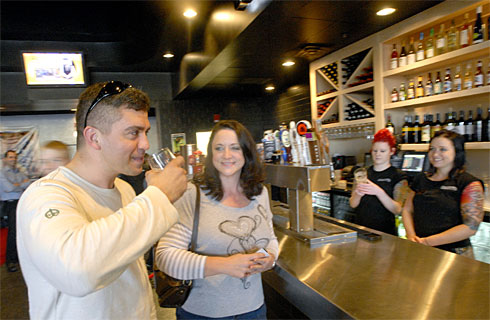 The movie industry must be getting desperate. Cinemas are trying to find new ways to get people to see movies in the theater rather than waiting for them to come out on DVD. These methods include selling "upscale food and beverages" including alcohol, and adding plush, comfy seats. All of this comes with a price to viewers, however: some of these luxury theaters are charging upwards of $35 per ticket.
Get ready for the $35 movie ticket.

That's the estimated admission charge for a new deluxe cinema opening in October in South Barrington, one of 50 Gold Class Cinema multiplexes coming from a joint venture headed by Australian conglomerate Village Roadshow.

The theaters will boast boosted amenities, including plush reserved seating, digital projection and sound, and upscale food and beverage offerings with seat-side waiter service. No auditorium will have more than 40 seats.

"It's an absolutely different environment than anything else that exists," Village Roadshow CEO Graham Burke said.
I beg to differ. There is a place where I can watch a movie in high definition, with my favorite "upscale" foods and beverages, in an intimate setting. It's called my living room. And I don't have to pay 35 stinkin' bucks to go there! Are you kidding me? Yeah, high-end movie theaters sound like a GREAT business to get into, with the economy in the dumper.
I am not the only one who has problems with this concept. State representatives from several areas where these theaters are taking off are saying that serving alcohol at movie theaters is a bad idea.
Movie theater owners from California to Massachusetts are increasingly giving patrons the option of sipping a beer or a glass of wine with an expanding array of snacks.

About 150 first-run theaters serving alcohol have opened within the past three years, bringing the total of such establishments from 14 in 1997 to more than 400 today, says Patrick Corcoran, director of media and research for the National Association of Theatre Owners.

The growth is happening, Corcoran says, despite concerns that those theaters could draw underage drinkers — concerns that have kept some theaters in Illinois, Idaho and California from selling alcohol.

"The boyfriend's 21 and the girlfriend's 19, and next thing you know, she's already had three drinks underage," says Alderman John Hanson, who voted against a proposal last year by a theater in Bloomington, Ill., to serve alcohol.

The increase in alcohol at the movies comes amid a decline in ticket sales in the USA and Canada. About 1.40 billion movie tickets were sold last year — up slightly from 1.395 billion in 2006 but lower than the 1.52 billion in 2003, according to the theater owners' association.
These people are clueless! Here are some sure-fire ways to get people to go to the movies:
1) Make good movies. A couple of weekends ago, my daughters were bored and the only family-appropriate movie we had to choose from was that Raven Symone-Martin Lawrence atrocity, "College Road Trip." It was painful, folks. I don't know if alcohol and upscale food would have made the suffering less on that one.
2) Get rid of rude patrons who refuse to STFU during the movie! I'll tell you this: if I paid $35 to see a movie and the people around me were blabbing nonstop- either with the people next to them or on their cell phones- I might choke someone. If the cinema management would kick out these morons, I might actually start going to the movies again.
3) Get rid of all those annoying commercials! I am willing to deal with 20 minutes of coming attractions, but not commercials. We see those at home on TV every night- we don't want to sit through them at the movies too!
Photos from Cinemablend and USA Today.