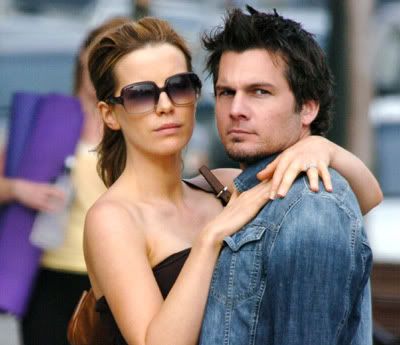 Kate Beckinsale has reportedly moved out of the home she shares with her husband of almost two years, director Len Wiseman:
KATE Beckinsale's marriage to Hollywood director Len Wiseman is shrouded in mystery after
she moved out of their home into a luxury flat two miles away.
Pearl Harbor star Kate, 32, is living with daughter Lily and house-hunting for her family while Len, 33, has remained home alone.
A pal said: "They have barely seen each other in the past week even though they are living just ten minutes apart. Everybody is mystified but Kate seems happy."
Kate's spokesman Leslie Sloan denied a split. He said: "They're still happily married and living together."
The Sun is a terrible source, and they run fake news all the time, but if this is true it must mean they're having trouble at least. We'll just have to wait and see.
One of the commentors, Agent Orange, on the board where we found the news notes that Wiseman made Kate a star and that this could be the end of her career:
Well that's the end of her career. No one even knew who she was, until Wiseman made her a star. Reminds me of Milla Jovovich after she split with her director boyfriend. She went from the Messager, to Ultraviolet. Underworld gives Kate a head start. Incidentally, I've posted an Aishwarya Rai interview with Dave Letterman on my blog. You think that if she started dating a famous director, she might breakthrough into Hollywood??
Kate is rather popular and we doubt this will mean that she no longer gets roles.
Here are Kate and Len out in Santa Monica in March and April