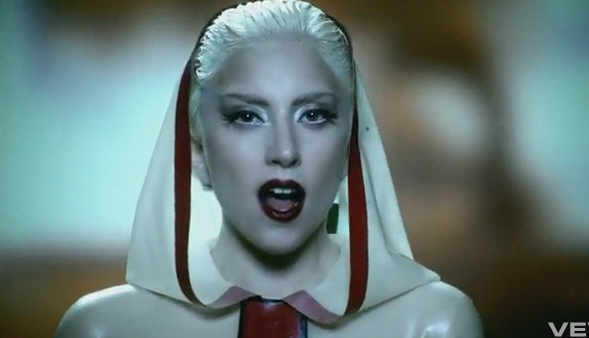 Lady Gaga's video for her new single "Alejandro" is here! This is the same song that Gaga performed on American Idol a few weeks ago (when she claimed it was poorly edited by producers). Many of you pointed out something that I couldn't figure out – that "Alejandro" is budget Ace of Base and Madonna's "La Isla Bonita". Gaga even sounds like Madge in the song. As for the video – well, I guess we're supposed to be shocked or titillated or angry or all of the above? Eh. Gaga dresses up like a nun and there are dancing storm troopers. Video fail. Here is the video and some random thoughts:
0:39 Are these storm troopers or Rockettes? They keep in step really well.
1:00 Are they dancing on an airport runway?
1:20 Ooh, Gaga is the fabulous military despot! She's like Pinochet, with latex and lobster headpieces.
1:53 Oh, they're having a military funeral for a bejeweled and enlarged heart.
2:11 Is that a Russian accent? Spanish? Bad accent work, Gaga.
2:25 Finally, the music starts!
3:28 Rugby scrum? Is that what's it's called?
3:48 Ooh, a leather-clad nun. Fabulous.
3:59 Damn, I thought Gaga had the rope around the guy's neck. I thought it was some new-fangled autoerotic asphyxiation, involving cots and bowl cuts. I was wrong.
4:38 Okay, I kind of like the part where she's dancing in her underwear. She is fun to watch.
5:09 Uh-oh. It that a crucifix on her crotch?
5:19 And then she deep-throats the crucifix. Ugh.
5:44 Damn, now she's copying the videos for Madonna's "Vogue"! And "Express Yourself"!
6:10 She does look cute in pants, though. I want those pants.
6:26 Cone-bra? We don't need a cone bra, we need an AK-47 bra.
7:18 Alejandro isn't very cute. And he's a cop.