Yesterday, we got to see Lady Gaga's new video for "Alejandro". It was a nine-minute long opus of militaristic themes, bowl/mushroom haircuts, latex and love. Go here for my recap. All in all, the quality of the video was good, although much of the imagery and general "vibe" did seem like early 1990s Madonna. Lots of "Vogue" and "Express Yourself". And much like Lady Madge, Gaga has a thing about crosses and crucifixes and being a general blasphemer, all in the name of "art". At one point in the video, it's obvious that Gaga's bikini bottom has a big red latex cross on her vadge. Oh, and Gaga deep-throated a crucifix and some rosary beads. Here's the video again:
Remember Madonna's "Like a Prayer" and the burning crosses and how big of a deal that was? Like, Madge pissed off so many people with that one – of course, she also made out with a black dude AND Jesus (Christ, not Luz) in that one. So maybe Gaga has a way to go, controversy-wise? Probably. Because so far, the only person Gaga has pissed off is one little Katy Perry. Katy got on her high horse and tweeted this message: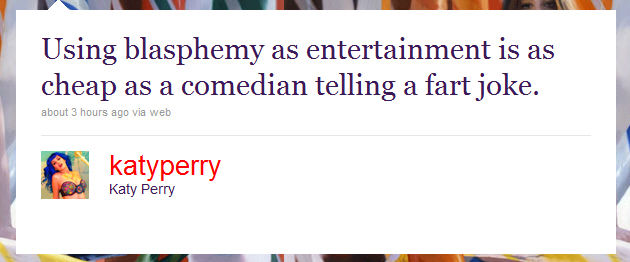 [From Katy Perry's Twitter]
Eh. Sure, I guess some religious people will find some of Gaga's imagery to be tasteless and/or offensive and/or sacrilegious. They've got a point. However, this is one of those moments where I think the offended should pick their battles. If you're really and truly offended, then by all means, say something and speak your mind. But if you're only mildly peeved and just want to vent (like I suspect Katy Perry is), hold your breath because you're just giving Gaga more attention. Plus, there's a little matter of the Gaga-to-Katy comparison. In my humble opinion, Lady Gaga is a much more talented artist/pop star than Katy, so Katy needs to sit down and STFU. I mean, really. Oh, and Katy's just upset because her thunder got stolen by Gaga – Katy released her video for "California Gurls" yesterday too.
Some of Our Lady of Blasphemers' worst images: