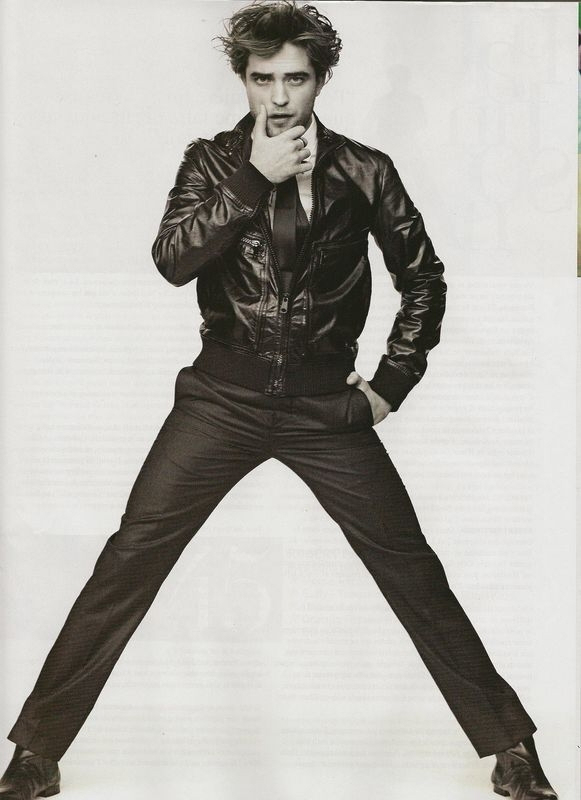 These are some new photos of Robert Pattinson on the set of Water for Elephants, and I also threw in some scans of Pattinson's appearance on Premiere France. I chanced upon one of Sparkles' fan sites (I didn't really chance, I was looking for it!), and I found that robertpattinson.org is extremely well-organized – they even have a complete translation of the Premiere interview. I was reading through it, and sighing over Sparkles' dreaminess. The full interview is here, but here are some good highlights: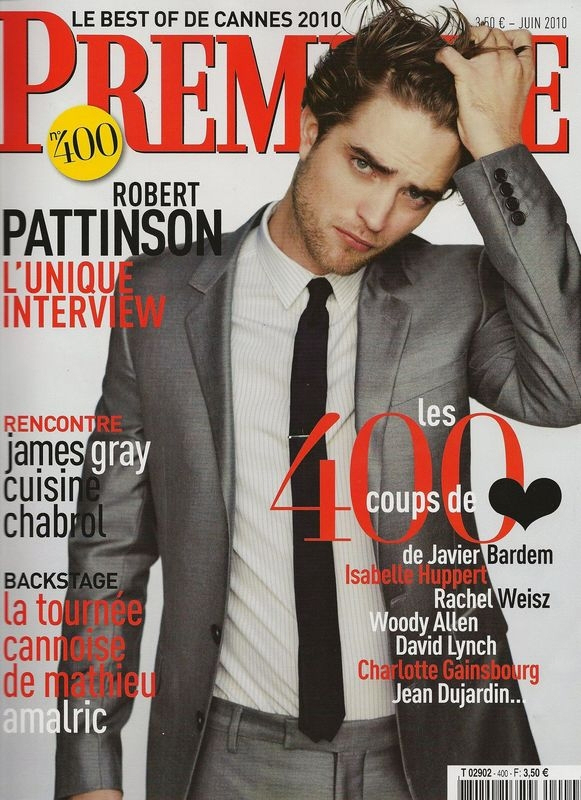 Première: The last time we talked, you were filming New Moon, the second Twilight movie. Here we are again, a year later for the opening of Eclipse. I'm having a hard time keeping up it's going so fast …
Robert Pattinson: There were only two months between the filming of New Moon and Eclipse, during which I made Remember Me. Everything, went by so fast that I never felt like I quit twilight. But I was still sort of lost when I started Eclipse. I didn't have the time to prepare myself so I needed a few weeks to accommodate myself.

P: What did you expect from a director like David Slade and did was he different on the set from what you imagined?
RP: I had no idea what I could expect from a director specialized in more mature films, who's not afraid of explicit violence. Honestly, I was wondering how his universe would merge with the one of Twilight, which isn't known for its nerve-raking violence. David had a clear idea of what he wanted to do; he had a different work method than Catherine and Chris'.

P: Like what?
RP: Eclipse introduces a lot of new characters; the atmosphere is less stuffy than in the first two movies. Twilight was centered on Edward and Bella's romance, New Moon on Jacob and Bella's relationship with Edward at the periphery. Eclipse allows each character to have its 'moment' the spectrum is wider. The movie is, also, more rhythmed by action, and less focused on everyone's intimacy.

P: Did you have a trainer who yelled at you and ordered you to do push-ups?
RP: Constantly. And here I thought that it would be just like the other movies: Kristen, Taylor and I in a room, going through the script. I was surprised.

P: All the juicy stuff is in Breaking Dawn: The sex scene, a birthing scene in which your character performs a C-section with his teeth…
RP: I know! I'm wondering how they will be able to translate this on screen. We'll end up with a R rated movie … Can you imagine if we decided to go all in and turn Twilight into a raw saga for adults with sex scenes and everything? Summit would appear as the most progressive studio in the world. This would be funny.

P: When you got the script for Eclipse, what were the scenes you were the most impatient to film?
RP: Until now, the majority of the scenes in Twilight were between me and Kristen. I was happy to play this role with other actors. In the first two volumes, I always felt like Edward was hidden and reserved. In Eclipse, he's angry; he sort of flies off the handle. It looks simple said like this but he seems less taciturn in this movie, to the point where I thought I was playing someone else.

P: If I was playing someone as serious as Edward Cullen for months, I'd like to release the tension once the filming is over, probably by getting drunk all night.
RP: But I was already drinking on set. *laughs*But seriously, when I was done filming Twilight I shot another movie right away so I really didn't have the time to stand back from all this. On the beginning of May, I went back to reshoot some scene for Eclipse just as I was done with Bel Ami, I was completely lost. I couldn't lose my accent, I couldn't find my marks … but once the make-up was put on my face, and I wore my contacts, everything came back to me. For the first time, I realized that I missed this character and how weird I would feel when the saga is over.

P: You know how to keep the suspense. I'd like us to go back on the topic of Remember Me which shocked me with its maturity and seriousness. Do you think this darkness played a role in the shy number it got at the box office?
RP: Remember Me wasn't made to be a blockbuster on the scale of Twilight, it was an indie movie with a tiny budget meaning that the promotion would be minimal. In the end, it made 60 millions of dollars all over the world: not bad for a movie which cost 16. I'm happy it wasn't a big flop but never was I worried about the box office.

P: Many people said that this movie was your test about your movie star status, it seemed a little early to me…
RP: I know! I read all the articles about Leo Dicaprio and the fact that his fans followed him after Titanic. But for me, Twilight has nothing to do with it. The fans will see the movies because they love the story. I never felt like I had a role in the success of it all. Like I've always said, it's the character that people love, not me. I hope to be able to reach out to people due to the quality of the films that I make and not because people will hope to see a new Twilight as soon as my name is in the end credits.

P: You say that celebrity opens some doors and closes others. Which ones would you have liked to stay open?
RP: I'd like not to be so paranoid when I meet new people. When I walk on the street, I'm scared of meeting anyone's eyes in case they recognize me. I have to hide constantly, it's unsettling. So, I live a strange life, I can't be as open as I'd like. In fact, you learn as you go. Over the years, I managed this situation better and better, I'm more at ease than before the Twilight madness. I think you reach a point after a while: you lose it, become a recluse and turn your back on the whole humanity or you learn to accept it.

P: You look more relaxed than last year…
RP: I am. I'm starting this new movie that excites me and I just finished another one that I like. I know that nothing would have gone so fats without the fans who follow me everywhere and the people who recognize me on the street, to be honest.

P: Do you think you saw everything when it comes to the craziness of the press or do you think they are more surrealistic experiences to live?
RP: I don't know. On the plus side, you can't stay the object of stares forever. New actors will come and grab their attention. It only last for a while. The craziness reached its point during the shooting of Remember Me but it died down since. When I was filming Bel Ami in London, things were calmer. I could even walk around freely.

P: How would you react if everything stopped tomorrow?
RP: The end of the world, you mean? I think I could survive. *laughs* To be honest, I have no idea. I'd find something else to do. The path I'm on right now helps me a lot but I haven't achieve yet everything I want.

P: I could see you play songs in bars in the nowheres of France.
RP: You couldn't have said it better. When I was 19 I filmed a short movie in Brittany for two weeks. Every night, I would play music in bars, it was fantastic. One of my favorite memories.
[From Premiere France, transcribed from scans by robertpattinson.org]
I do think he's done a lot of growing up and maturing the past few years, and he's begun to wear his fame with a lot of grace and good humor. Instead of looking permanently hunted, he's begun to look like he's actually enjoying himself and trying to be a good sport about his crazy fans. And you know what? He gets it a lot worse than Kristen Stewart. Little girls like Kristen because she plays Bella, and they want her autograph. Little girls LOVE Pattinson and they want to touch him, grab him, cut off a strand of Sparkle Hair, etc. They want to swarm him and take him down. So why is it Pattinson maintains such grace and good humor while Kristen is still such a snot?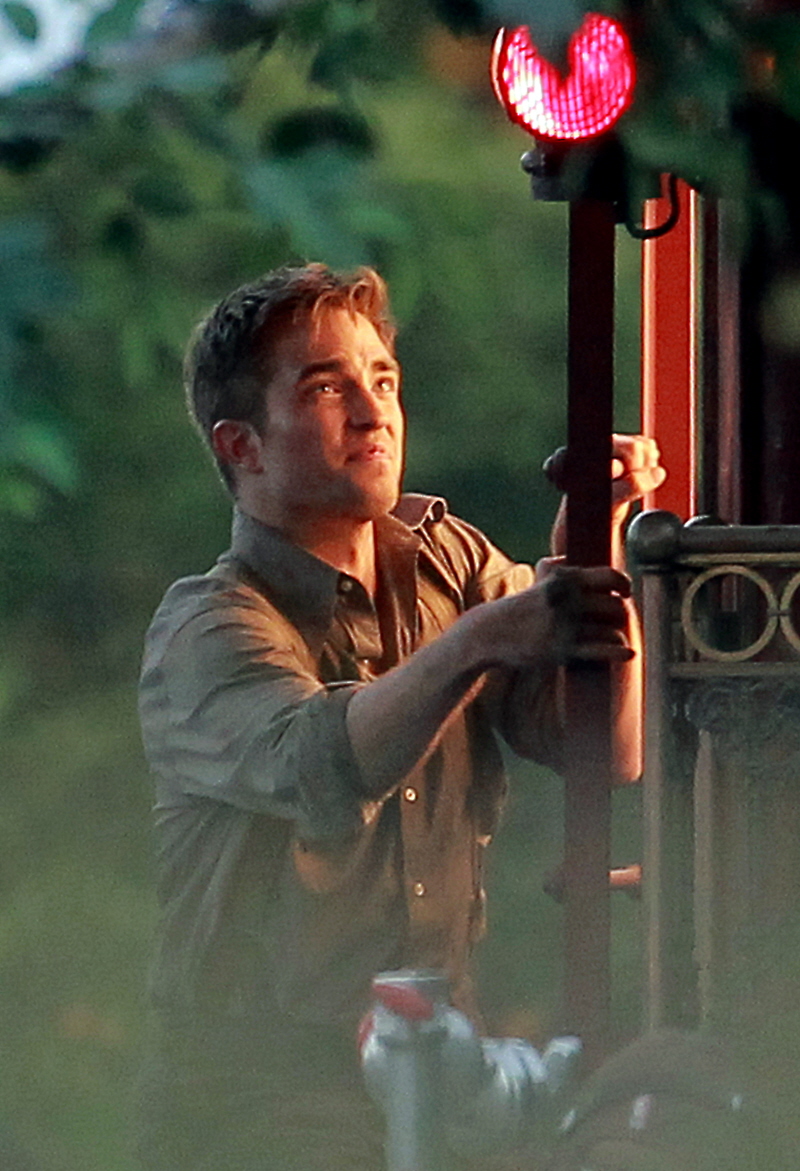 Pattinson on June 9, 2010. Credit: Coqueran/Fame Pictures. Scans of Premiere cover and additional pic courtesy of robertpattinson.org.