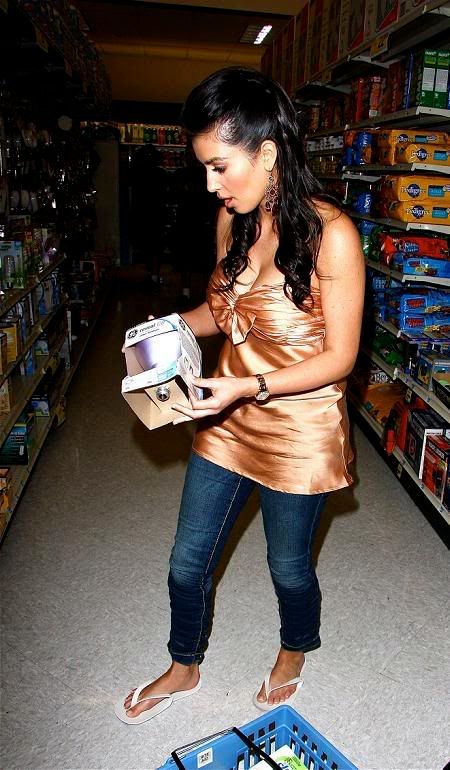 Kim Kardashian would like to believe that the rest of the world is as obscenely dumb as she is. Luckily, that's only true about half the time. Kim's gotten a lot of heat for carrying around an ass that's as big as her boobs. Truly, it's a size generally not seen in nature. But Kim has religiously insisted that her ass as au natural. And exactly what expensive, exotic beauty potion did she use to grow such an ass? Apparently it's Britney Spears' favorite tonic: Cheetos and deep fried Oreo cookies. As a result, Kim – who is known to shun publicity and rarely talks to magazines unless it's about really, really important stuff – took some time out of her demanding schedule to inform People magazine that she's eating better from now on. No word on what her ass thinks of this plan.
"I figured just eating well would help me lose five pounds or so," Kardashian, 27, tells PEOPLE, admitting that three months into the New Year, her diet isn't getting any better. "It's so hard to eat well because I love so many unhealthy foods. I just can't stop eating junk. It's awful!" Kardashian… lamented a disastrous trip to the International House of Pancakes earlier in the afternoon. "I decided not to have pancakes, because those aren't good for me and I didn't want the carbs. So what did I get? Chicken strips. I knew they were bad for me, but they were worth it."

For now, Kardashian is relying on exercise to keep her figure. "I've got a personal trainer who keeps me active," she says. "I work my butt and legs just about every day, and I do cardio to burn fat. I've actually started videotaping my workouts so I can do them on the road. I'm going to start selling the videos soon on my Web site so that others can do the same workout that I do. They're short videos, but if you do them one right after the other, it's a really good workout."
[From People]
Boy whoever implied that Kim Kardashian was dull as a box of rocks (me) sure was wrong. If that girl's smart enough to go to IHOP while supposedly trying to eat healthy – and substitutes the chicken strips for the pancakes – clearly she's a hell of a lot smarter than we thought. And if she's savvy enough to call People and tell them about it, the girl clearly knows something about sophisticated press coverage. But good to know her infamous ass – which looks like two globes locked in some kind of morbid embrace – is due to chicken strips and her religious but butt/leg workout. And not implants. Because Kim's too smart to put silicone in her ass.
Here's a few classic Kardashian ass shots, along with this most recent picture of Kim – while somehow not showing her ass, which defies the very laws of physics – it's way too funny. Her expression tells me she's just realized this light bulb is smarter than she is. Here's Kim "doing a spot of shopping and pops into the Beverly Hills Nail Spa to get her nails done," on March 26th. Head image thanks to Splash.