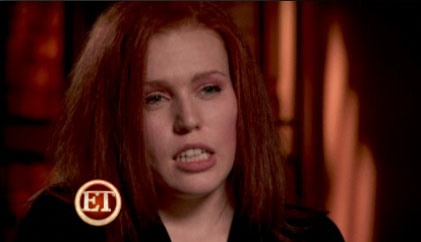 Yesterday we took a break from covering the Gary Coleman story because frankly I was disgusted with it. The details are horrific and point, at the very least, to a non-grieving ex wife with absolutely no sympathy or regard for a man who she pulled the plug on. Shannon Price coldly sold a photo of the man she supposed loved lying dead and helpless on his hospital bed and is granting interviews in which she seems to have only disdain for Gary. At the worst she murdered him in a scheme to take over his future earnings and the licensing rights to his image.
Price is of course pressing on with her claims to Gary's estate. He may have been broke, but like Michael Jackson his name and pension are worth enough money to ensure that she never has to work again. There's a battle brewing between Price and the executor of a 1999 will from Gary, his former manager Dion Mial. Price has produced a supposed handwritten 2007 addendum/codicil to a different 2006 will in which Gary names Price as his sole heir. The statement even includes an over the top declaration by Gary of how much he loved Price, which sounds to me like it was coerced. Gary never signed or notarized the 2006 will, though. (Note: People incorrectly reports in their coverage that it's a 2007 will. The will is from 2006, according to TMZ. The handwritten addendum is from 2007, and was signed by Gary, but not notarized.) The codicil could also be invalid due to the fact that Gary and Shannon were legally divorced in 2008.
Of course Shannon is unrelenting, and is trying to declare herself Gary's common law wife. Funeral details are still pending given all these unresolved legal issues. Shannon's rep is giving ridiculous statements about how her client is supposedly all broken up over the fact that she can't properly deal with the remains of the guy she took off life support without a second though. I hope she gets her ass handed to her in court.
The National Enquirer is reporting in their print edition that Shannon regularly physically and emotionally abused Gary and that they were divorced in 2008 due to an affair she was having with a local mechanic. Shannon started freeloading off Gary again and moved back in with him once that relationship ended.
A lot of you have wondered why there has been no official investigation into Gary's death. Cops tell Radar Online that foul play has not been ruled out, but that it's not suspected either. Officially, the investigation is still open, but unless there's evidence pointing to Shannon as a suspect it's doubtful that anything will come of that. The executor of Gary's 1999 will, Dion Mial, tells Radar that he can't get an autopsy on Gary's body and that "Shannon Price is responsible for blocking any investigation".