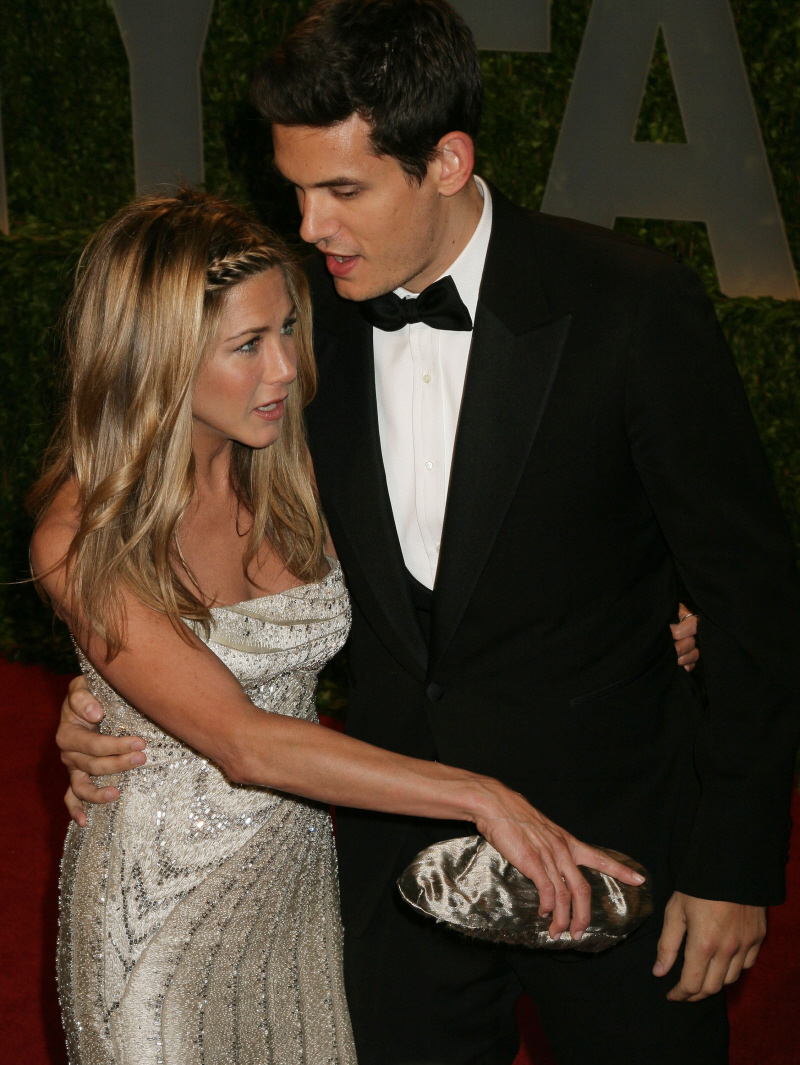 Random British tabloids aren't the only ones with random Jennifer Aniston gossip this week. Already today, we've heard that Jennifer may already be getting busy with Jason Sudeikis – and now this week's In Touch Weekly is claiming that Aniston might be getting back together with John Mayer. It's a web of deceit and idiocy, though. The story, not the coupling, although that works too. The basic gist is that now that Aniston and Nicole Kidman are best buds, and because Nicole's husband is now really tight with John Mayer, that Nicole and Keith are going to try to get Aniston back with Mayer. Nicole really has horrible taste in men, doesn't she?
Nicole Kidman and Keith Urban have a secret plan to get Jennifer Aniston and John Mayer back together! Keith has performed with John on CMT's Crossroads, and they've become close, just as Nicole and Jen became fast friends.

An insider tells In Touch, "John has confided in Keith how much he misses Jen." Meanwhile, Nicole has been having hear-to-hearts with Jen.

"Nicole and Keith think John and Jen should get back together, and they are plotting a way to try to sway their new pals to give love another chance and have a secret date," the insider adds. "Nicole stood by Keith during his hard times, and she's telling Jen that men can change if the women they love support them."

While Jen misses John, she might not be ready to give it another shot. "Jen was really heartbroken after their split, and has a hard time trusting him… she's waiting to see if he's changed."
[From In Touch, print edition]
Considering Mayer is allegedly sticking it to Taylor Swift, I would say no, he hasn't changed. But really, I do think this is bullsh-t. My opinion of John Mayer hasn't changed in a while, but surely after his racist, homophobic, misogynistic tell-all Playboy interview, the man is still radioactive, right? And even if he's due for a comeback (debatable), why would any woman recommend Mayer to a friend? If one of my girlfriends was like "You should date John Mayer," I would slap the sh-t out of her. Obviously, that bitch would no longer be my friend.
Oh, and Star Magazine has a really condescending article about Aniston too, saying that she's going to adopt now after being encouraged by Sheryl Crow. Here's one of the worst lines: "Jennifer plans to practice her mommy skills on Sheryl's tots!" Barf. Star's source says: "Money isn't an issue, but time is… Jen doesn't want to wait four years, like Sandra Bullock did, to get her adopted child. She's hoping it will take no more than a year… Sheryl has invited Jen to spend time with the boys so she can get a feel for what it's like to be around a baby and a toddler… Jen is going to make sure to do that." Yeah, I'm sure Jen will "make sure" she keeps that appointment. Right after she has a vodka martini, a cigarette, a massage and a vibrator orgasm. Seriously, what about Jennifer's actions convinces people/tabloids that she has any interest in children?
Header: Aniston & Mayer at the 2009 Oscars.