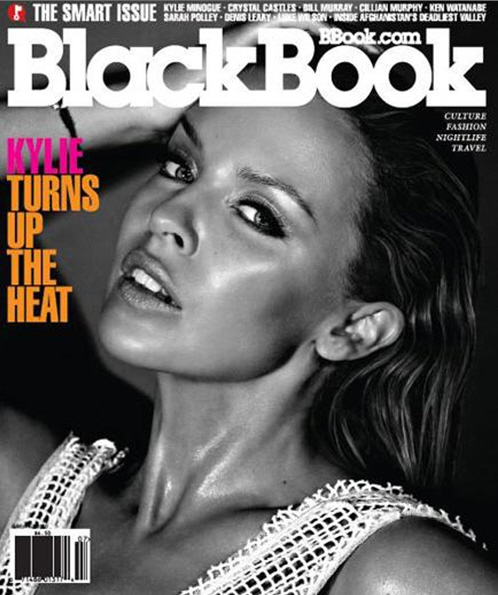 Back in May, CB wrote about Kylie Minogue and her somewhat new catlike face. Now, I generally don't notice Kylie either way – I've never thought much of her, but I did think she used to be a pretty cute girl. But at some point over the past year, Kylie has had some MAJOR work done. Take a look at the July cover of BlackBook Magazine - if I hadn't told you this was Kylie, would you have known? This is getting into Madonna territory. As in, I feel physical pain when looking at a photo of Kylie, just because I can't imagine being that insecure, that you would get all that sh-t done to your face.
Anyway, BlackBook hasn't released anything from their interview, but Kylie did sit down with the Times Online to talk about cancer, Botox and boys. Full interview is here and here are some highlights:
She says she's stopped doing Botox. "It gave me a bad rap. Isn't that the saying?"

On beauty treatments, etc: "It fascinates me that I'm asked so much about it, when advertising for face products is forced down our throats. There are some things you can do," she says. "Most people have done them. You can have microdermabrasions and micropeels. If these things are going to give you better skin, why not? My face has gone through a lot of changes. If you look back to before I was ill, there was nothing of me. I didn't realise it at the time, but in a way I looked much older than I do now. All of me is just fleshier now, but my face changed. It filled out, it puffed up with the drugs. It's not puffed now, but then it was because of the chemotherapy and steroids. Nobody saw me much — I was under the radar — but there are pictures of me. I could see my cheeks via my peripheral vision. I'd never noticed my cheeks before, but I could look down and I was like, 'Those are my cheeks!' "

On aging and still having "it": "Now it gets written about because I'm in that age group. 'She's in her forties and she's still got it.' I'm in the age range where you're spoken about like that, and I'm like, 'Shut up, because at some point it won't be.'"

When she broke up from the French actor Olivier Martinez in February 2007, after four years together, she never bitched about him or was bitter. "I'm a fatalist," she says. "I always feel that a relationship runs for the duration it's meant to."

On her new boyfriend, Spanish model Andrés Velencoso: They met in October 2008 at a birthday party for the burlesque dancer Dita Von Teese, and she says she's still blissed out with him. "He just left this morning, actually. We had takeaway Spanish last night because I'm very good friends with the Spanish restaurant. I liked it before I met him."
[From Times Online]
The interview goes on a lot longer than that, but it was annoying me too much and I didn't finish reading it. I don't know how many times that writer talked about how Kylie "refused to complain." The writer usually mentioned it right after Kylie bitched about something. As is her right – it's the contradiction in the text that bothered me, and the idea that we're supposed to be seeing Kylie as a good-natured cancer survivor (which she is, honestly) that would never complain and always be upbeat and positive. So… it's not enough that she survives, now she can't even complain, ever? Oh, and Kylie is so full of sh-t about the Botox. Look at that magazine cover again if you don't believe me.
BlackBook cover courtesy of BlackBook online.