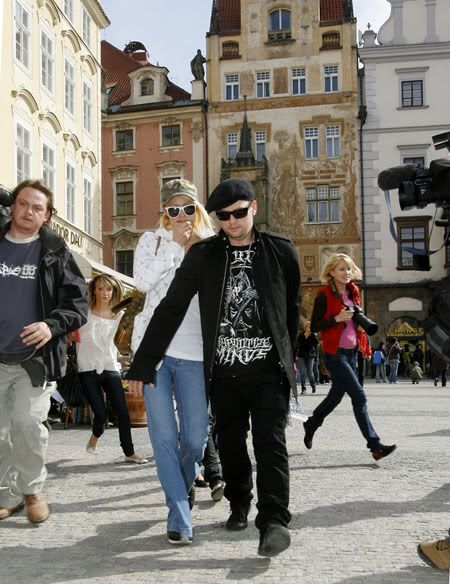 Paris Hilton is on tour with her boyfriend Benji Madden's band Good Charlotte, but the fiance of his twin brother and band mate is stuck home with their newborn baby. That may be her choice, but Star Magazine says it's not and that Nicole Richie is super pissed that frenemy Paris gets to tag along while she's left holding the baby:
Sources confirm to Star that Nicole was devastated when Joel informed her she would not be coming on the tour. She previously hit the road with the band, even while heavily pregnant, so she assumed this time was no different. She had even begun interviewing nannies to help her with daughter Harlow.

"Nicole begged Joel to let her tag along, but he refused to put the baby through that much traveling," says a friend of hers. "He thinks a rock tour is no place for a newborn and has put his foot down."

One insider says Nicole tried to make her case for coming by insisting she was nervous about being away from Joel, 29, for so long and that she was worried about caring for Harlow without his help.

But another source says Nicole, 26, is really just upset that Paris Hilton – who has been dating Joel's twin brother, Benji, since February – is crashing the tour. And Nicole knows that wherever Paris, 27, goes, there's usually trouble. "Nicole is livid!" says another source. "The thought of Paris on the road influencing Joel makes her skin crawl. Nicole doesn't trust Paris as far as she can throw her.
[From Star Magazine, print edition, April 7, 2008]
You can see this being the case even if Star Magazine's sources all happen to be staffers. It's got to be hard to be apart from your partner right after you have a baby, and going on tour with a nanny seems preferable to staying home. It's possible that Benji and Joel didn't really talk about the fact that Paris was tagging along and that Joel decided that Nicole should stay home before he realized that Paris would be stealing his band's thunder.
When my husband and I were watching "Wetten, Das?" with Paris on Saturday, he asked "isn't it bad publicity for Good Charlotte to be associated with Paris Hilton? Like doesn't that demean their integrity as a band?" It kind of does. They may not be sleeping with tons of groupies but we know at least one of them thinks with his dick.
Paris Hilton is shown clutching her chin after she took a fall earlier in the day on the cobblestones in Prague. The story is that "they were mobbed by fans and photographers, calling Paris to fall to the ground." Thanks to WENN for these photos.