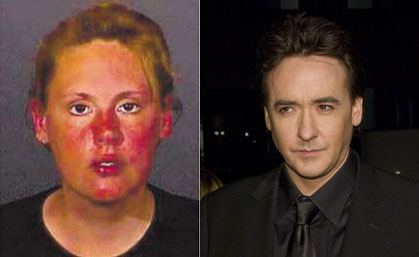 Move over, rehab. There's a new fad among celebs- these days, you're not anyone in Hollywood unless you've got your own personal, creepy stalker. Not one to be outdone by the likes of Tyra Banks, Pamela Anderson and Catherine Zeta Jones, "Say Anything" cutiepants John Cusack has a female stalker who likes to show up unannounced at his home. And no, she doesn't stand outside holding a boom box over her head, playing Peter Gabriel's "In Your Eyes," just in case you were wondering.
A woman who showed up Sunday outside John Cusack's Malibu home — despite a restraining order barring her from approaching the actor — was arrested on suspicion of stalking, Los Angeles County sheriff's officials said Monday.

Deputies were called to the 24000 block of Malibu Road about 7 p.m. Sunday after a cab driver reported that a passenger was refusing to pay a fare for a ride to that area.

As deputies approached the scene, they were flagged down by Cusack, who told them that he recognized the woman in the cab and that she had been stalking him.

Emily Leatherman, 33, was booked on suspicion of felony stalking, violating a restraining order and petty theft. Leatherman, who was booked at the Malibu-Lost Hills station, was being held in lieu of $150,000 bail, said sheriff's spokesman Steve Whitmore.

"She was arrested and had violated a previous restraining order taken out against her by Mr. Cusack," Whitmore said.
She didn't have a car, so she took a cab to John's home- even though she didn't have cab fare! That's dedication right there. The mug shot of this chick is really creepy; her eyes look totally dead. John, if you need someone to keep you company and make sure the scary lady doesn't come back, I'd be happy to help. I'm an excellent markswoman, and I make a mean meat loaf. Call me!