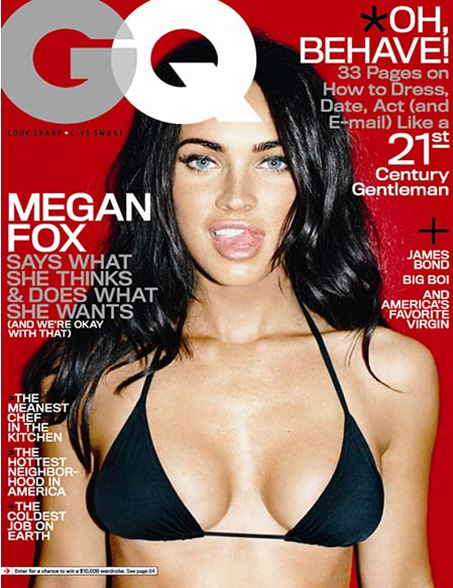 A few weeks ago, Megan went on a fun-looking beach vacation with her boyfriend Brian Austin Green (coughDavidSilver). Other sites showed the photos (like Dlisted) – we didn't have access to them. Honestly, they weren't titillating – just Megan in a bikini, looking like a drowned rat. Anyway, some agencies noticed that it seemed like Megan had a new tattoo on her right side, some kind of cursive-scroll. No one could really identify it, and now Megan has given a new interview to MTV, telling us what her new tattoo says. According to Contact Music and Michael K, it's a Nietzsche quote: "Those who danced were thought to be insane by those who could not hear the music." But I studied philosophy, and that doesn't sound like Nietzsche. Let me Google…it's really from a poet named Angela Monet? Eh. Anyway, the tattoo is "in honor of" Mickey Rourke. Because she thinks he's crazy, probably.
Megan Fox has enjoyed her fair share of high-concept movie roles in the past several years, with characters ranging from a demonic succubus in "Jennifer's Body" to a gun-slinging prostitute in "Jonah Hex." But her upcoming turn as a winged circus freak in director Mitch Glazer's "Passion Play" might be her most surreal yet — thanks largely to the assistance of co-star Mickey Rourke.

"Mickey is such a beautiful, wonderful human being," Fox told MTV News. "He's so genuine and so sweet and so talented. I just love him to death. I kept telling him that he needs to have kids, because I think he's going to be an amazing dad. I hope he does that soon."

The words "genuine and sweet" might not be the first to come to mind for moviegoers who know Rourke best for his menacing turns in "Iron Man 2," "The Wrestler" and "Sin City." But Fox confessed that she feels a bond with Rourke because they are both celebrities who march to the beat of their own drummers and say what they feel. In fact, Fox's admiration for Rourke goes so far that she got inked up in his honor.

"I actually got a tattoo that is sort of in honor of him," she revealed. "It's on my ribs. I don't know if it's been photographed yet, but it'll come out eventually, I'm sure. I just love him very much and think he's very special."
[From MTV]
If I was Mickey, I would offended. But Mickey probably boned her, and she probably hadn't felt that good since she and Michael Bay hate-f-cked. She "heard music" – you get it? That's where the tattoo comes in. Anyway, yes, Mickey and Megan got along really well, and Mickey even called her an amazing actress, which just goes to show that he has early-onset senility.
By the way, MTV also threw up video of the Megan Fox interview, and it reminds me of something CB sent me a few days ago – another Fox interview, in fact. In both, Megan's face barely moves. It's really crazy how much surgery this girl has had already. I was wincing: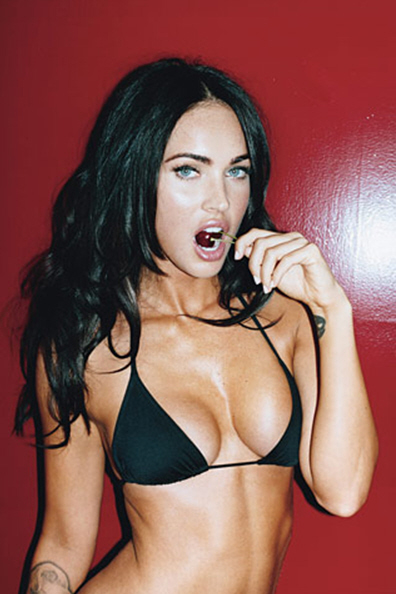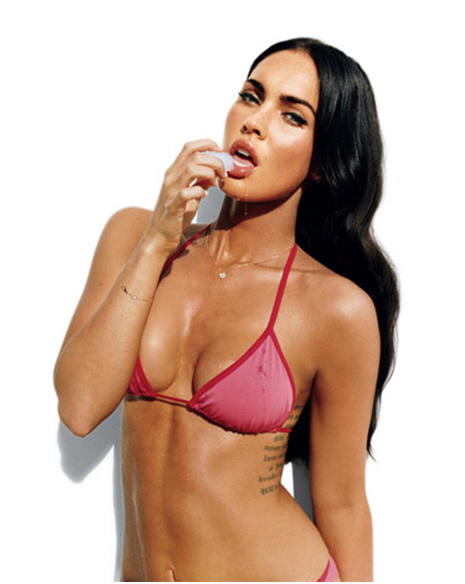 Photos courtesy of Megan's 2008 GQ photo shoot.