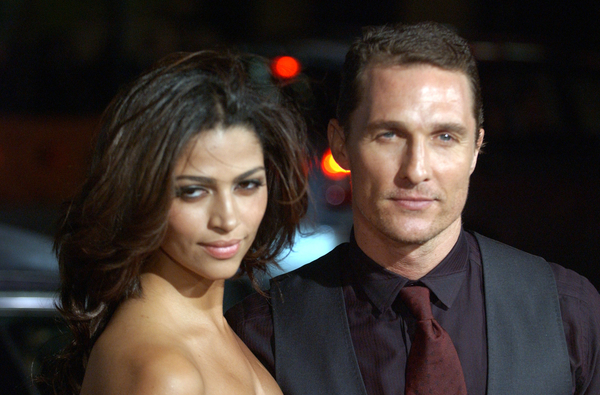 It seems that Matthew McConaughey has his life all planned out – the important parts at least. Though he's made it clear he has no plans to drop the nude bongo drum sessions, he seems to have settled down in preparation of impending fatherhood with his girlfriend, Brazilian model Camila Alves. Not that I'm judging on the bongos, mind you. Matthew gave a pretty interesting and revealing interview to the Daily Mail, in which he talked about his parents' marriage (they broke up and remarried each other THREE times), how he wants to die, why he'll be a great dad, and what he'd like to come back as in his next life.
My father died right after making love to his wife, and I can't think of a better way to go. My dad always said to me, "Boy, when I get out of here, I betcha I'll be making love to your mother." I hope my own death is way down the line, but when it happens, that's my preferred exit strategy. But let's not rush it, eh?

My parents married each other twice and divorced three times. I've no plans to repeat the experiment – in relationships, I prefer the long, slow train ride to the rollercoaster. I don't think my folks wanted the rollercoaster either: they were simply the classic example of, "Can't live with you, can't live without you". They hated the breaking up, but they really loved the getting back together, as they could enjoy the courtship all over again. I love that courtship period as much as anyone. I never want it to end. I never want to feel like the girl has me in the palm of her hand.

I've been preparing for fatherhood since the age of ten. Bringing a baby into the world is something I've always wanted and now I'm completely ready for my life to start revolving around another human being. I carefully maintain relationships and friendships. I'm committed to my acting career. But to be the architect of a little creature's life is my next big adventure and I can't wait for it to begin.
[From the Daily Mail]
And if you were sitting around, aching to know what animal Matthew plans to come back as in his next life – it's a panther. He says they're "the coolest animals in the world." He noted that they're very poised, and mentioned, "I'd sure love to be that well designed." I don't want to argue with someone so freakishly hot, but I'd bet that a lot of people would argue that he's about as well designed as a human physically can be. It's very cute that Matthew says he's been training to be a dad since he was ten. He has a cute way of speaking. Never have I thought of a father as being the "architect of a little creature's life," but it's absolutely true. Though he's known for being incredibly laid back – he mentioned in the interview that he'd played the bongos naked at least five hundred times before he was caught, and had no plans to tone it down – he seems like he'll be a really good dad. He doesn't seem the type to set up arbitrary rules just to assert his power, but also appears to be the kind of guy that'll step in when he needs to.
Here's Matthew and Camila at the "Fools Gold" world premiere on January 30th. Images thanks to PR Photos.