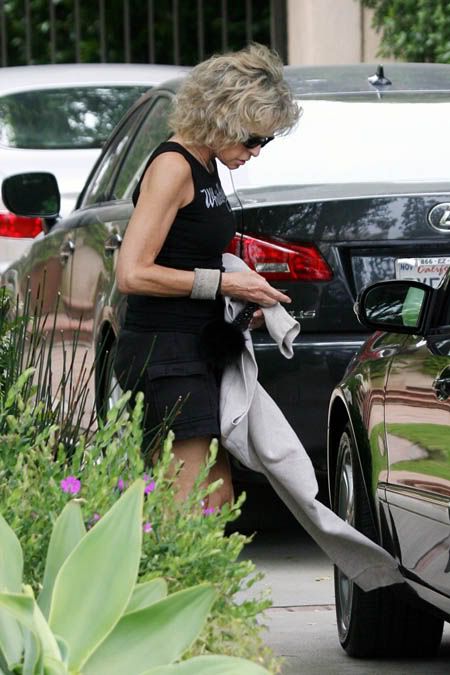 Earlier this month, we reported on 13 staff members at UCLA Medical Center who were fired for snooping through Britney Spears' confidential medical records and feeding information to the tabloids. It looks as though Spears isn't the only celeb to be ratted out at the medical center. Farrah Fawcett, who has been battling cancer, was also a target.
Months before UCLA Medical Center caught its staffers snooping in the medical records of pop star Britney Spears, '70s TV icon Farrah Fawcett learned that a hospital employee had surreptitiously gone through records of her cancer treatments there, documents and interviews show.

Fawcett's lawyers said they are concerned that the information was subsequently leaked or sold to tabloids, including the National Enquirer.

Shortly after UCLA doctors told Fawcett that her cancer had returned — and before she had told her son and closest friends — the Enquirer posted the news on its website. Indeed, alarming headlines regularly cropped up in the Enquirer and its sister publication, the Globe, within days of Fawcett's treatments at the UCLA hospital.

UCLA subsequently terminated the employee who inappropriately reviewed Fawcett's records, according to one person familiar with the situation who spoke on condition of anonymity.

This was the second time that information on Fawcett's links to UCLA was inappropriately shared by someone connected with the hospital. In a 2006 letter, one of her physicians, Gary Gitnick, informed Fawcett that a former hospital contractor had listed her name on his blog, "suggesting you are a patient and/or charitable donor of mine and UCLA."

While Fawcett, now 61, was being treated at UCLA, officials had been monitoring access to some of her records to guard against a privacy breach — and found none, said Carole A. Klove, chief compliance and privacy officer for UCLA Healthcare and Medical Sciences.

But after the Enquirer ran its exclusive story, "Farrah's Cancer is Back!," last May, Fawcett complained to her doctor, Eric Esrailian, and UCLA launched an investigation and looked at additional records. The hospital discovered "multiple reviews" of her records by a worker who was not involved in Fawcett's treatment, Klove said.
If you ask me, this incident is even more egregious than the Britney one. Farrah Fawcett was battling a terminal disease and hadn't even had a chance to break the news to her family before these nosy staffers went running to the Enquirer and got paid for this. It's disgusting. I'd sue their asses off if it were me. But I guess Farrah has enough to deal with right now. If this keeps going on, how are famous people supposed to keep their medical records and treatment private?
Farrah Fawcett is shown in the header image on 5/19/07, thanks to Splash News.