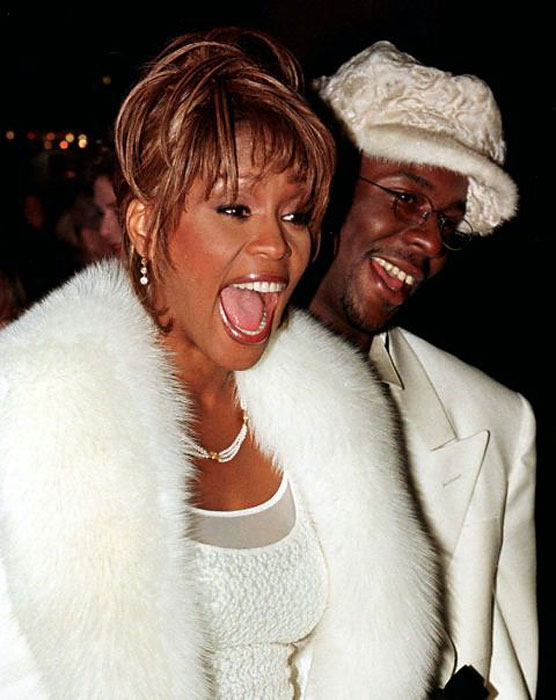 Bobby Brown, fresh from a stint on the painful reality show "Gone Country," has written a tell-all book about his marriage to diva Whitney Houston. I guess he needed the money to cover all his bail, back child support, and drug habit. Brown's book attempts to paint his ex-wife as the one who introduced cocaine into the household, and claims that she only married him to kill rumors that she was gay.
With an ex-husband like Bobby Brown, Whitney Houston doesn't need enemies.

In his upcoming autobiography, Brown blows the lid on his wildly dysfunctional marriage to the troubled, Grammy-winning diva, suggesting that she drove him into a nightmare of drug addiction.

"I never used cocaine until after I met Whitney. Before then, I had experimented with other drugs, but marijuana was my drug of choice," Brown writes in "Bobby Brown: The Truth, the Whole Truth and Nothing But," out next month. "At one point in my life, I used drugs uncontrollably. I was using everything I could get my hands on, from cocaine to heroin, weed and cooked cocaine."

As far as his 15-year marriage to Houston is concerned, it "was doomed from the very beginning. Within the first year we separated, with several more to follow," Brown writes. "I think we got married for all the wrong reasons. Now, I realize Whitney had a different agenda than I did when we got married . . . I believe her agenda was to clean up her image, while mine was to be loved and have children."

Whitney, he alleges, had been under "a lot of pressure. The media was accusing her of having a bisexual relationship with her assistant, Robin Crawford. Since she was the American Sweetheart and all, that didn't go too well with her image . . . In Whitney's situation, the only solution was to get married and have kids. That would kill all speculation, whether it was true or not. In the short, I think I got caught up in the politics and ended up marrying one of the biggest stars in the world."

But Brown notes that he was no saint in their relationship, confessing in his book, "I am guilty of sleeping with other women . . . Women are always throwing themselves at you. I'm only human, so I would make the mistake and bite the hook sometimes . . . I let the testosterone take over."

One of his most public indiscretions was an affair with former exotic dancer Karrine "Superhead" Steffans. "Yes, I've slept with her," he confesses. "Yes, I've spent several nights at her house. But she was only good for what her nickname stood for."
"At one point in my life, I used drugs uncontrollably." Uh, yeah- I think that was last Tuesday. Sorry, I can't stop laughing at this giant pile of BS. We are actually supposed to believe that Whitney Houston needed to clean up her image, and the best she could do was marry Bobby Brown? Bitch, please. That fool already had a criminal record and a nasty reputation as a misogynist long before Whitney came along. I think all that crack has addled Bobby's memory. It's also hilarious that he explains away his cheating in a few sentences, but rips into his wife for her supposed behavior. Whitney has more talent, fans, charisma and character- even in her current state- than Bobby Brown could ever hope to have.