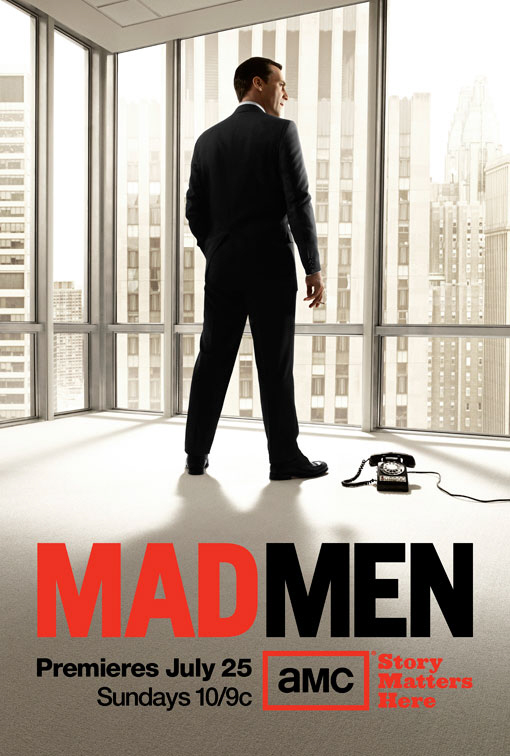 *Some SPOILERS for past seasons of Mad Men*
The fourth season of Mad Men premieres on AMC on July 25. I can't wait, can't wait, can't wait CAN'T WAIT. My mom keeps calling me and asking me when it's going to come on, she's so excited about it too. When Season 3 ended, Kennedy had just been assassinated, and everything was in chaos as Don Draper, Roger Sterling, Bert Cooper, Mr. Price, Pete Campbell and Peggy Olsen ran off to start their own ad agency. Thus, I suppose, this newly-released haunting image of Don Draper, standing alone in his glass (house) office, with no accoutrements. Man, at his most basic and fabulous. Lovely. USA Today also got some early promotional shots which I'm including – my Hamm looks lovely, as always. The Daily Mail has a few cryptic quotes from Mad Men's creator, Matthew Weiner:
It managed to attract the wrong sort of publicity last week when its star January Jones lost control of her Range Rover and hit three parked cars in Los Angeles. But now, the U.S. Emmy-award winning TV show Mad Men is trying to get attention for the right reasons.

A series of pictures from the first episode of the show's fourth series were released to give fans a taste of what's coming up in the show which begins next month. The shots feature ladies man and show lynchpin Don Draper, played by John Hamm, whose life will go through plenty of changes after his wife Betty (January Jones) asked him for a divorce last season. And after helping to form a new advertising agency Sterling Cooper Draper Pryce; Draper is seen in serious conversation with partner Roger Sterling and account manager Pete Campbell.

Peggy Olson, who has risen to become an important player in the agency, is also featured. But the show's executive producer Weiner is giving nothing away about the new series.

'I have nothing to say – I really don't!' he told TV Guide. 'I'm working hard to make it an entertaining experience, to keep in there and surprise people.'

But one thing's for sure. Draper will definitely have to take a long hard look at himself after the dramatic events of last season.

'All of the things that happen in the show have consequences," Weiner added cryptically. 'I never start fresh and pretend like something didn't happen. That's my way of saying whatever you saw at the end of last season had a permanent impact.'

However, fans won't be getting too many drastic changes from the sixties drama set in an advertising agency.

'I don't think there's anything that drastic but sometimes reality and sticking with that is the most shocking thing in the world. It's like, 'What are the consequences of that?' said Weiner, who refused to say how much time has passed between the third and fourth series.

'Following things through on a realistic stage has really been the way to make it the most shocking of anything,' he said.

The new series premieres on US network AMC on July 25.
[From The Daily Mail]
Do you think Don Draper will jump right into the dating pool now that Bettie is gone? I mean, gone from their marriage. I could conceivably see Don and Joan Holloway running off together – while her husband is away in Vietnam. How about Don and Peggy? It's too brother-sister/father-daughter, right? They're so alike, and they love and respect each other too much to make their relationship sexual. Ooh, I can't wait to see what year this season is going to start – I hope they don't skip over Beatlemania. How could they? Rock music and the Beatles and the Stones changed advertising too – it was the beginning of 1960s as we know it.
Also… Peggy's got a new haircut! It looks really cute.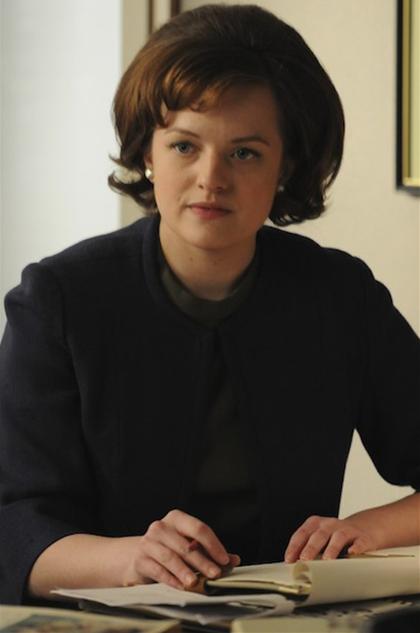 Mm… Hamm.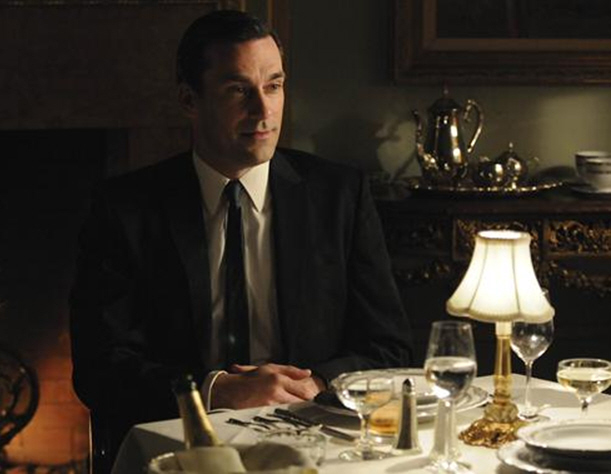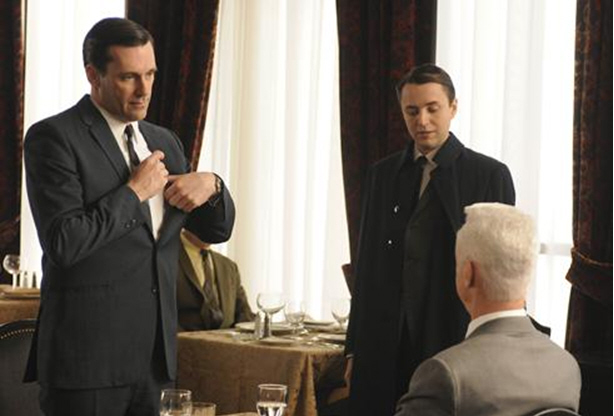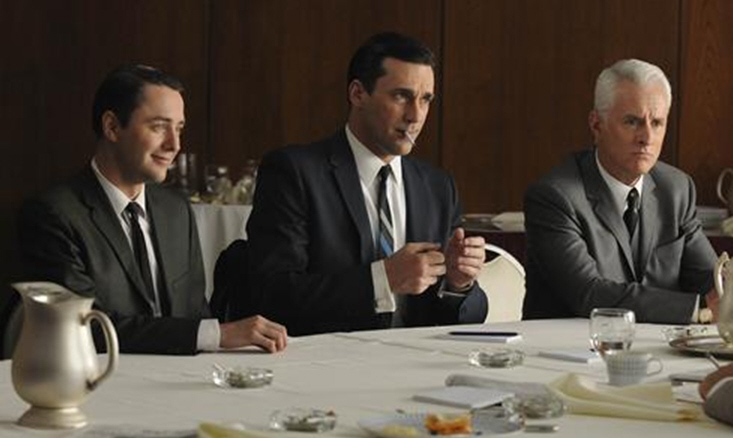 Mad Men poster courtesy of EW. Additional promo photos courtesy of USA Today.