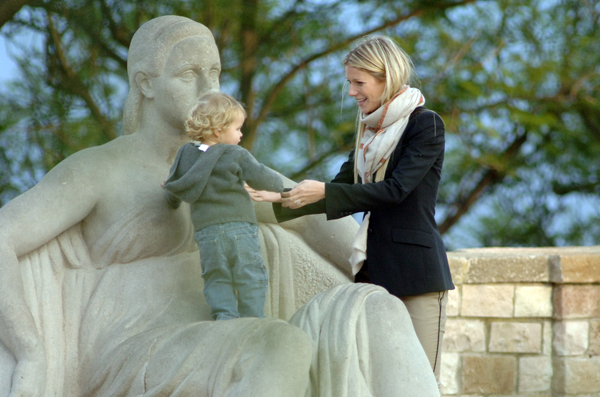 Rumors of a troubled marriage have dogged Gwyneth Paltrow and husband Chris Martin pretty much since they walked out of the church together. Perhaps it's her quiet, slightly frigid nature or the way they each generally refuse to talk about each other, but they've often been the subject of a lot of marital speculation. Which is funny because the speculation seems to vacillate between "They're breaking up and they hate each other!" to "They're having another baby!" over and over again. When Us Weekly cornered Paltrow's mother Blythe Danner at a movie premiere on Tuesday (okay I have no evidence that they actually cornered her, but that's the only reason I can think of for a mother randomly spouting off about the state of her daughter's marriage) she denied that there was any trouble in Gwyneth and Chris' happy marriage.
Gwyneth Paltrow and Chris Martin are happily married, thank you very much. Paltrow's mother, actress Blythe Danner, has slammed blog reports that the couple's 4-year marriage is on the rocks. "Good god, it's just so tragic that people have to make up stuff," she told Usmagazine.com at the NYC screening of The Visitor on Tuesday. "I've never seen two happier parents — or people — so I don't get it."

Daughter Apple turns 4 in May; son Moses is about to be 2. (Click here to see how Paltrow and other stars bundled up their kids for winter.) "They're pretty fabulous," she said of her grandchildren. "Yesterday my little grandson says, 'Don't go! Don't go!' You just don't get that kind of love from everybody."

As for reports that Paltrow (who stars in May's Iron Man) plans on quitting the business, Danner insisted, "She very much wants to go back to work. "She didn't set out to be a movie star — she set out to be a wonderful actress," she adds. "But motherhood is very important to her, as it was to me, and I think she's finding balance."
[From Us Weekly]
Awww, that's kinda sweet. Not sure if I believe it, but it's nice that Blythe Danner at least tries to cover up for her daughter's frigidness. That's probably not fair to say, but ever since Ted Casablanca at E! started calling Paltrow Fish Stick years and years ago, it's really hard to see her any other way. The moniker is so funny and fits so well… and when I think about those fish sticks I used to eat as a kid, I'm pretty sure they would look like Gwyneth Paltrow should they ever come alive and take human form. There's definitely no denying that Gwyneth is a devoted mom – she clearly lights up whenever she's around her kids. As much as we like to speculate that there's trouble, it's almost as nice to hear that things are chugging along just fine.
Here are some older pics of Gwyneth with Moses. I'll say this for the rumors – it's damn near impossible to find many pictures of Gwyneth and Chris together.