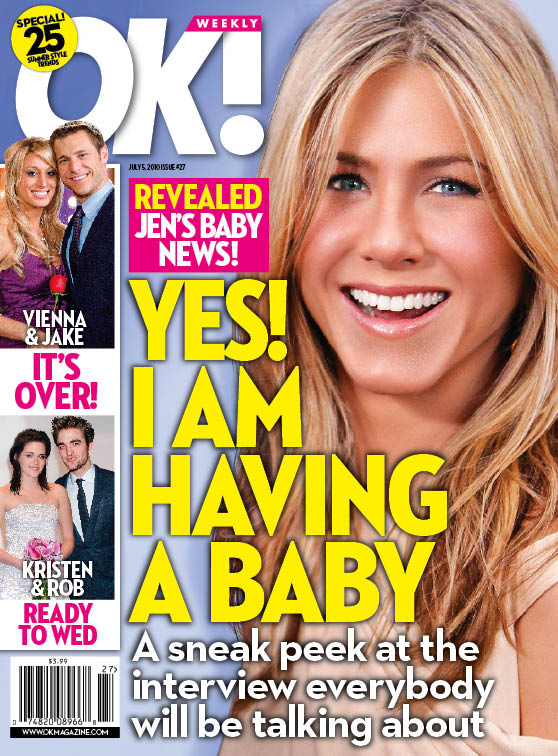 OK! is running yet another in a long line of misleading covers this week claiming that Jennifer Aniston has "baby news" and allegedly said "Yes, I'm having a baby!" The teaser article on their site reveals absolutely nothing, so I'm sure that they have absolutely nothing other than another weak assurance from Jen that she eventually wants to be a mother after being asked for the umpteenth time about it. (That's a commentary on how many times Jen is asked that question. It's in no way a judgment on her choice to live a super rich single girl yoga by day chardonnay-guzzling by night lifestyle.)
There have been some half-assed rumors that Aniston is considering adoption after her friend Sheryl Crow adopted her second son, but I doubt that OK! has anything more than "sources" or a very brief "sure, I would have children at some point" mention from Jen. Her IVF comedy with Jason Bateman, The Switch, is coming out in August so we can look forward to many more breathless "Jennifer is pregnant!" rumors as she does the press tour.
I don't know what's worse: this probably worthless article or the way they smudge tooled her face into oblivion. This isn't the first time OK! has declared Aniston pregnant. They did a "Confirmed: Finally a Baby For Jen" story claiming that she was pregnant with Kaiser's lover Gerard Butler's drunken sperm this April. There was an "Exclusive: [Aniston] Pregnant at 40!" cover in September, 2009.
At least they didn't make Vienna and Jake's non-shocking split the lead cover story. You know this tired nonstory about Aniston's alleged baby news is going to sell better than anything with a photo of those two nobodies.