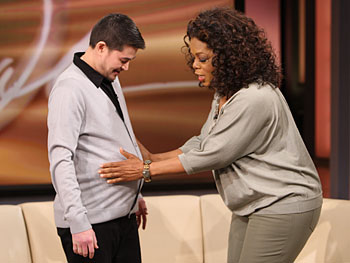 Oprah Winfrey had six month's pregnant transgender man Thomas Beatie and his wife Nancy on yesterday, and they seemed very open and honest about their decision to have Thomas bear their child, a girl. They came across as a kind and loving couple with a sincere desire to raise a child together. Beatie, 34, was born a girl and made the decision to legally become a man, having his breasts removed and taking testosterone but leaving his reproductive organs intact. After his wife, Nancy, had a hysterectomy due to severe endometriosis, they decided that Thomas would bear their child because he still had the ability to.
Oprah first talked about how Thomas mom died when he was just 12. Thomas was a girl at that time named Tracy, and his mother committed suicide, leaving him and his two brother's
to the care of his father.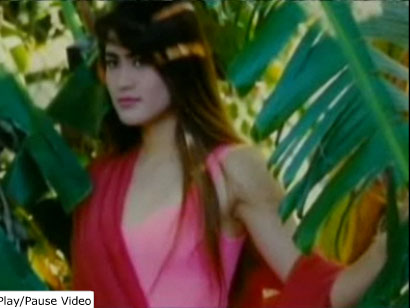 Thomas' early life
Thomas said that up until he hit puberty he didn't notice anything wrong, but that when he was 14 he found puberty a shock and felt like his body was betraying him. Thomas' father pushed him into modeling and beauty pageants, and he was even a "Miss Teen Hawaii USA" finalist. He said "I wish I felt comfortable looking like that. I don't feel like I was born in the wrong body, I felt like I was meant to be exactly who I am today."
Thomas, 34, said he did have boyfriends as a teen, but felt like society was pushing him into it. He says he wanted to be around women more as a teenager, but it wasn't until he was in his 20s that it turned into a sexual attraction. He said when he was 17 he took up martial arts and got into a relationship with his martial arts instructor, a man, who told him he fought and walked like a man. He says he wasn't feminine enough for him at the time.
He went to college and said "that's when I found myself" and had his first girlfriend, who he was with for three and a half years.
Resistance from the transgender community
He said that of all the transgender groups he contacted for support and advice, only half got back to him and they were all unsupportive, with one saying "the world's not ready for this."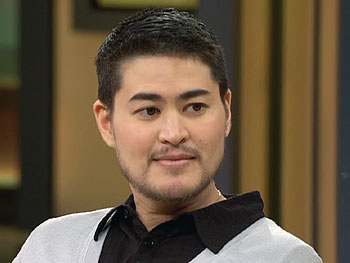 How Thomas realized he was meant to be a man
He said that he "wanted to be free again like I was when I was younger. I didn't see the world as male or female and I just wanted to be myself… I'm a masculine person and I wanted to wear clothes that made me feel comfortable. That was just a natural progression."
"Over time, people started calling me 'Sir,' and that was an interesting concept to me… I ended up taking testosterone. I sought the help of a physician."
Oprah: "Why not just wear the clothes, look more masculine cut off your hair, date women?"
Beatie said that an earlier girlfriend wasn't supportive and asked him why he didn't just want to be a lesbian. He explained "Sexuality is a completely different topic than how you feel as your gender. The gender role in society that I felt most comfortable being… was a male gender role. It's hrd to explain how it is a separate issue. When I woke up in the morning, I felt like a man. It was difficult for society to respect me the way I felt on the inside if my outside didn't match it."
Oprah asks if he's had genital implant surgery
Beatie explained how he had his breasts removed, and Oprah asked about what was going on with "the penis area," and asked him if he had "like implant surgery" and he said "I opted not to do anything to my reproductive organs, because I wanted to have a child one day."
Oprah asked him if it was a conflict for him to be pregnant and he said "I have very stable male gender identity. I see it as a process, and it doesn't define who I am."
"I feel it's not a male or female desire to want to have a child, it's a human desire. I'm a person and I have the right to have my own biological child."
Oprah asks again about penis implant
Oprah asked yet again if he had a penis implant and he said "hormones are an incredible thing…" and he explained that hormones shape gender in the womb, and Oprah kept pressing "do you grow testicles too?" He said "No, I just introduced hormones into my body a little later…"
Oprah: "Does the clitoris get larger?"
"It does. It looks like a penis. A small penis. Does it matter?" [crowd laughs and claps]
He also said "I can have intercourse with my wife."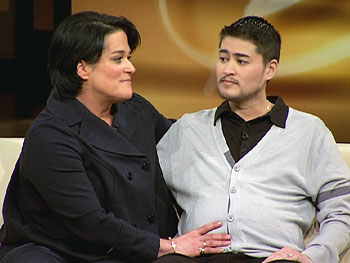 Thomas' wife Nancy explains their attempts at pregnancy
Thomas' wife of five years Nancy, explained that it wasn't a difficult decision for Thomas to have their child because it was not possible for her. She had her womb removed due to severe endometriosis. Nancy explained that they went public because they didn't want someone else telling their story for them.
Thomas explained that he had an ectopic pregnancy when they first tried and that it was life-threatening and that he had to have emergency surgery to have one of his fallopian tubes removed. His brother told him it was a good thing that he didn't have a baby because it could have been a "monster."
Thomas and Nancy's doctor, Kimberly James, was on and explained that they are a devoted couple and that there is little risk to the baby because Thomas has been off testosterone for two years before conceiving. She said "it's an average pregnancy."
Thomas and Nancy are expecting a girl.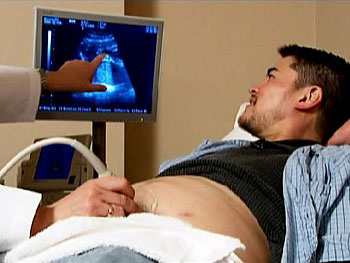 Nancy impregnated Thomas
Nancy said that they were driving three and a half hours to go to the fertility doctor for the first pregnancy, but that she realized that they could do it at home. She went to a veterinarian's office and asked for a syringe without a needle, and she took the container of sperm from the sperm bank and did the job herself.
Nancy's older daughters from her first marriage were on and said they were happy and excited for the new baby and that "they're just regular boring people."
Nancy and Thomas were showing their nursery, and Nancy said "I bet a lot of wives would like to have their husbands pregnant."
Two of Thomas' neighbors were interviewed via satellite, and they said they had no idea that Thomas used to be a woman and that they only knew him as a gentle man.
Threats and intruders
They told a story about an intruder knocking on their window at 2:30 in the morning when Nancy was inside watching television. Thomas ran downstairs with a baseball bat and realized that he was pregnant and couldn't get in a fight. The person left before he could confront him.
Thomas and Nancy said they'll go hide if they have to, and that they have savings to live on. They currently live in Bend, Oregon and run a screenprinting business together, but have had to close their business after all the publicity.
As for what they're trying to tell the world by going public, Thomas said that "love makes a family."
This story really made me smile and I found the Beaties both honest and sincere. I hope they find the acceptance they need to raise their daughter in peace.
In case you just want to see Beatie, here's a segment from Extra!, the full Oprah show is linked below.

Here's the whole show. Thanks to monkeyboy on Redlasso.
Pregnant man on Oprah part 1
Pregnant man on Oprah part 2
Pregnant man on Oprah part 3
Pregnant man on Oprah part 4
Pregnant man on Oprah part 5
Pregnant man on Oprah part 6
Pregnant man on Oprah part 7