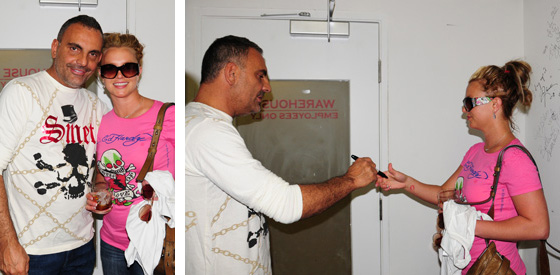 Star Magazine says that Britney Spears has been talking to a designer at the Ed Hardy company about creating her own clothing line. Designer Christian Audiger confirmed to Star that he is talking to Britney about collaborating on a clothing line. Britney was seen at the Ed Hardy offices and a clothing line seems like a real possibility for her.
Britney Spears may soon be releasing her own clothing line — if she seals a deal with Ed Hardy designer Christian Audigier. "I have known Britney for a long time — she is a good friend of mine," Audigier tells Star. "We're talking about working together, designing a line of clothing."

Britney was at Ed Hardy's corporate offices in Culver City, California on Thursday to meet with Audigier and while she was there she picked out some Ed Hardy duds she liked. "Britney came in to talk with Christian about working on a line together," Ed Hardy's Marissa McMillion tells Star. "She was really nice to everyone in the office. Her mom was with her and Britney asked us to send some clothes to her sister Jamie Lynn for her birthday tomorrow (April 4). Britney's favorite piece was a leopard hoodie and she loved the sunglasses — she put them on immediately. But most of all she was a fan of Christian Audigier's own line."
[From Star.com]
Of course Britney loved the leopard hoodie, in July 2006 she replaced her website briefly with a picture of her face morphed into a tigers, like something a child would find fascinating. She wrote at the time "I'm mesmirized [sic] by tigers. Their eyes, their stripes, their constant quest of [sic] survival. They almost have a sense of mysteriousness about them. They pull you in and make it difficult to look away."
Now Britney will be able to mesmirize us with her fashion sense, which we find difficult to look away from, like a car wreck. The girl can't put a decent outfit together, and she's working with a company known for garish tattoo-like designs, so together they're bound to create some tasteless fashion for the masses. At least she'll have some money coming in once she inevitably starts blowing it again when her father is no longer in control.