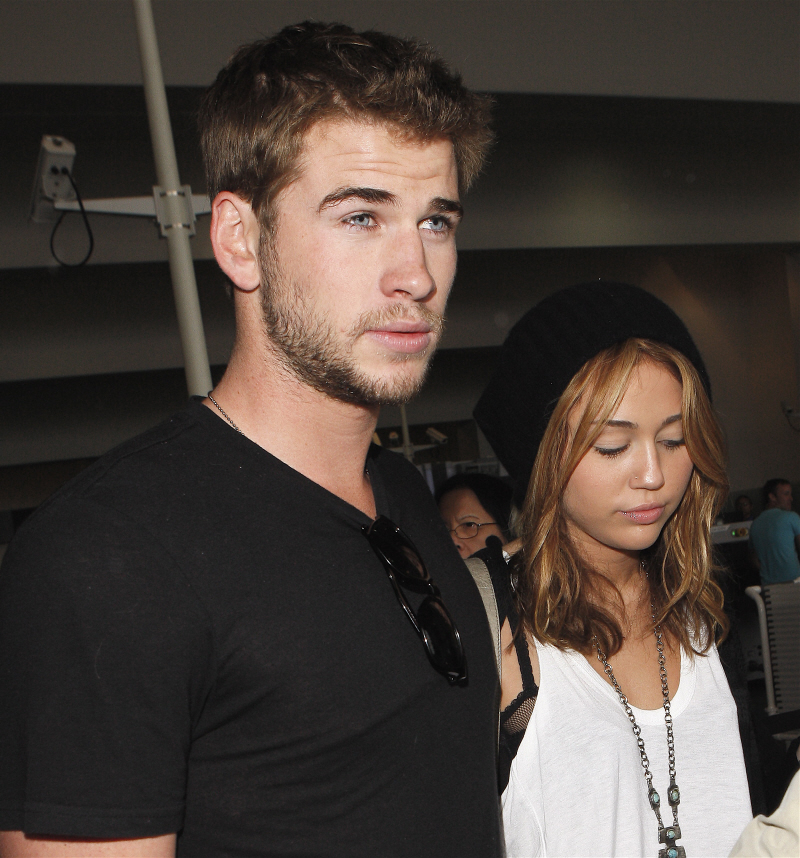 Several weeks ago there were widely circulated reports that Miley Cyrus and Liam Hemsworth had broken up. Some said that Liam was jealous of Miley's career. Some said she was jealous of anything that took him away from being at her side 24 hours a day. Some said Liam was frightened of Miley's family. Anyway, it was nothing. Miley announced on her website that they hadn't broken up, and Liam has even been at her side for the past week as she does more promotion for her album. The Enquirer has a theory about why Liam and Miley are back together (if they ever were broken up) – they think that Billy Ray Cyrus "begged" Liam to not only come back to Miley, but to move back into his 17-year-old daughter's LA home. The Mullet's reasoning? Miley is out of control, and she needs a babysitter, so why not her 20-year-old boyfriend?
Miley Cyrus' father Billy Ray has begged Liam Hemsworth to move back in with Miley – because Billy Ray thinks his out-of-control 17-year-old daughter needs a babysitter!

Billy Ray initially disapproved when Miley moved 20-year-old Liam into her LA home, but after her latest shocking antics, he's reconsidered.

In mid-May, video of Miley giving a 44-year-old producer a lap dance surfaces. Then there were widespread reports that Miley was photographed wearing a short dress without panties. And on June 5, at London's G-A-Y nightclub, she made out with a female dancer, and did the same thing the next night in Spain. Plus, she's started showing even more skin in various stage shows, and she got a tattoo on her ear.

"Some of this was calculated," a source told The Enquirer. "But there's no denying Miley's got a wild streak."

And her parents are terrified about what is yet to come. As The Enquirer recently reported, Miley and Liam parted ways about a month ago over personal and career jealousies.

"But now Billy Ray sees that Miley needs all the supervision possible, and he's begged Liam to go back to Miley… he's at his wit's end as to how to rein her in."

Both of Miley's parents "recognize Liam has a calming influence on their daughter… Bully Ray was relieved when Liam agreed to move back in. He's hoping a steady, stable boyfriend will stop Miley's impulsive behavior."
[From The National Enquirer, print edition]
I don't really think Miley and Liam ever broke up, honestly. Sidenote: I just screwed up their names while I was typing and it came out "Limey". HA! Anyhoodle, here's a scary thought for The Mullet: if Miley was acting like this while she had a boyfriend, what makes you think she's ever going to be easy to handle, ever? While Liam does seem like a stable force in Miley's life, it's young love and it's not going to last, and Miley has no idea how to be in a relationship of equals. Tragedy is coming, I fear.
Also, just another side note – without the vadge-flasher leotards and the face full of makeup, Miley looks about 12 years old. She really is just a kid, by God. Also – she has glitter on her boobs in the last pic.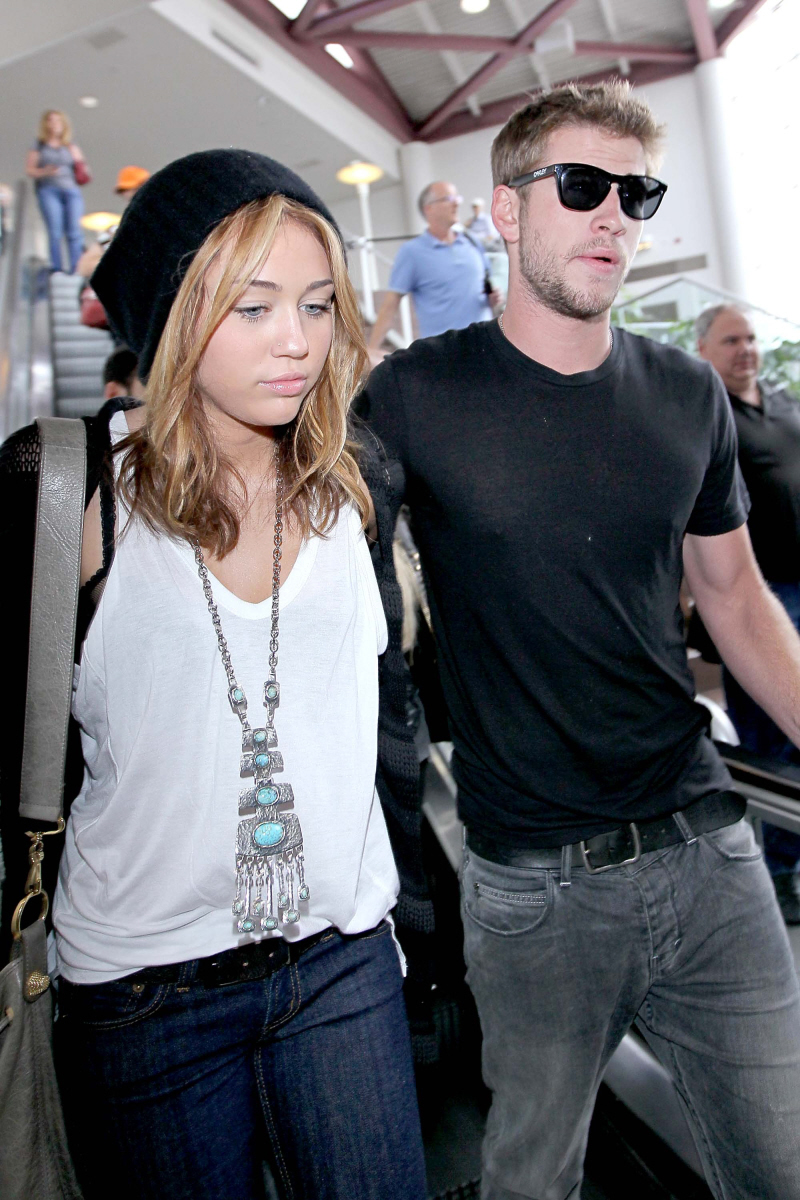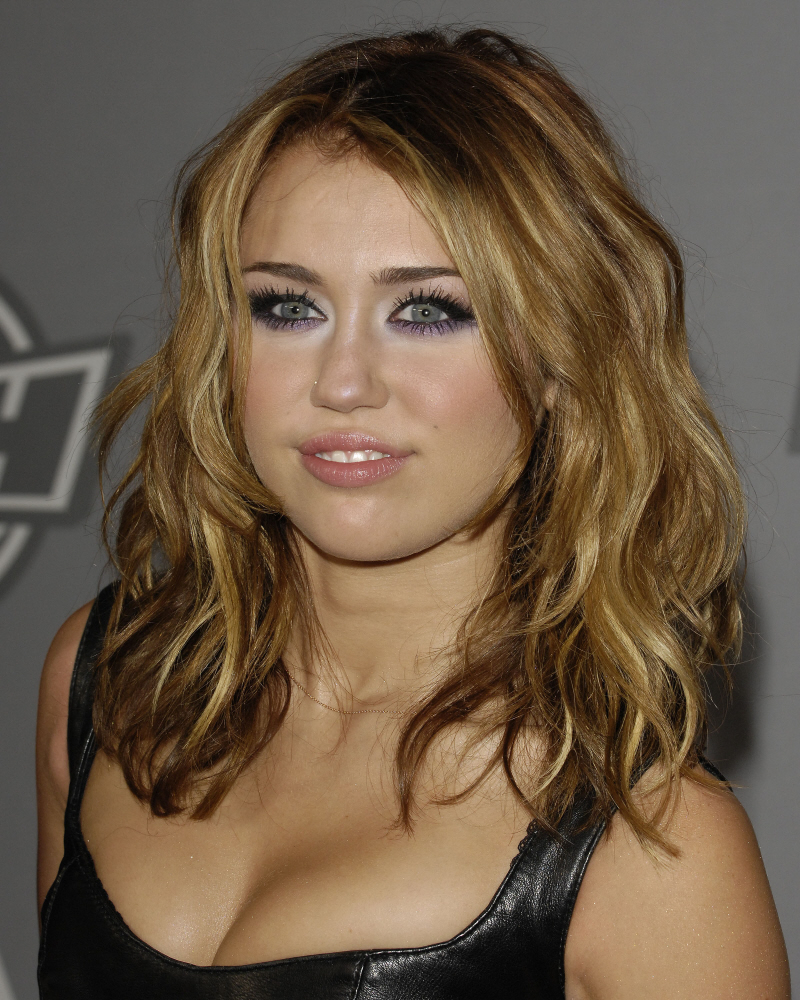 Miley and Liam at LAX on June 21, 2010. Also, Miley at MuchMusic on June 20, 2010. Credit: WENN.