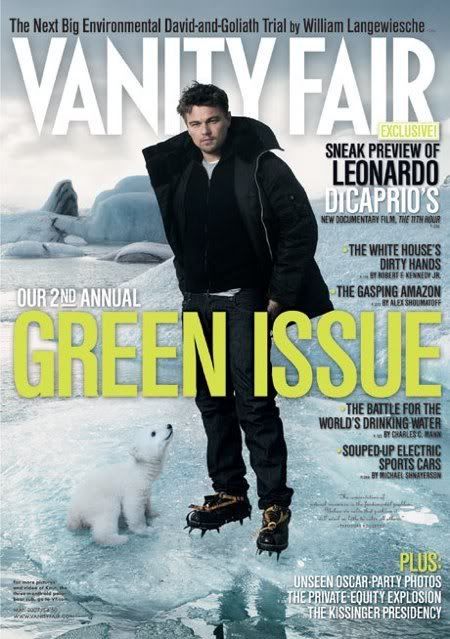 I love a celebrity that practices what he preaches. Leonardo DiCaprio has championed a lot of environmental causes – Vanity Fair even put him on the cover of the magazine for it, along with an in-depth article about his passion for green causes. Leo drives a hybrid car and had solar panels installed on his home in Los Angeles. And to further walk the walk, Leo just purchased an eco-friendly condominium in the Battery Park City area of Manhattan.
Every time he comes home, Leonardo DiCaprio is practicing what he preaches. The environmentally conscious actor has bought an apartment in Riverhouse, an eco-friendly building overlooking the Hudson River. The purchase was confirmed on Friday by Christopher Daly, president of Sheldrake Organization, the developer of the Battery Park City complex. Occupancy is slated for this summer.

The 264-unit condominium glass tower overlooks the river and a park, and boasts low emission paints, a 24-hour fresh filtered air system, a water treatment facility and rotating solar panels. DiCaprio seemingly also will have everything at his fingertips. The David Rockwell-designed high-rise features an indoor 50-foot lap pool, media cafe, fitness center, landscaped terrace and dog spa.
[From the Huffington Post]
Riverhouse's website states that 1 bedrooms start at $835,000; 2 bedrooms from $1,185,000; 3 bedrooms from $1,725,000; and 4 bedrooms from $2,975,000. They also say they're "High performance Oxygen Green condominium residences." The building sounds amazing – DiCaprio is certainly not roughing it by any means. The building's main floors will also have a branch of the New York Public Library and a City Bakery. It sounds just as sophisticated as any other building a celeb would inhabit – and in a way that's a good thing. DiCaprio is showing people that they don't need to have a diminished quality of life in order to be good to the earth.
Here are some images from Riverhouse's website. It looks like a really beautiful, well-thought-out design.