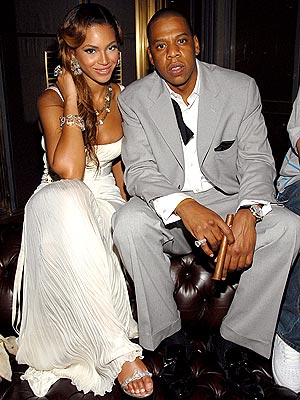 Beyonce and Jay-Z in 2006
Beyonce and Jay-Z are married, according to a source quoted in People Magazine. There was some speculation that these two weren't getting married and were just having a party, but if it wasn't a wedding they sure went to a lot of trouble and expense, including taking out a marriage license on April Fool's day. Here are the details that are known so far, thanks to People, E! Online, In Touch, and OK!
The wedding is said to have taken place at Jay-Z's Tribeca penthouse apartment last night.

Guests included Beyonce's mother and father, her sister, Solange, and her former Destiny's Child band members Kelly Rowland and Michelle Williams, who posted a goofy youtube video yesterday that lent some credence to the "wedding hoax" rumors.

George Clooney, Gwyneth Paltrow, and Chris Martin were also in attendance. (George's attendance was reported by E! Online's The Hum, who note that he was at the right time and place to suggest he was also going to the wedding.)

Candelabras, long white candles and white orchids were seen being delivered at lunchtime. People reports that from 50,000 to 60,000 white orchids were imported from Thailand.

A cake was delivered around 3 p.m., it is described by E! as "a large white cake box that was a couple of feet wide and a couple of feet deep."

A white tent was erected on the roof of Jay-Z's apartment.

Guests were instructed to wear white.

Guests started arriving at 7:00 pm and the party lasted well into the early morning, with guests only starting to leave at 2:00 am.

The roman numeral IV was a theme of the night, as both Beyonce and Jay-Z's birthdays fall on the fourth. Jay-Z's birthday is 12/4/69 and Beyonce's is 9/4/81. They have matching ring finger tattoos of the numeral IV that they reportedly had done in France on 12/4/07. Jay-Z's chain of clubs is called 40/40. The date yesterday was 4/4/08.

Guests were told not to bring in cell phones and surrendered their phones to their drivers.

DJ Cassidy provided the music for the evening.

Jay-Z moved into the building last week, and a resident says he was warned that there was going to be "a large party on the roof" Friday night.

In Touch says that Beyonce and Jay-Z are planning a second wedding in France on May 4.

Jay-Z is on tour with Mary J. Blige and has concerts scheduled in Greensboro, NC and Washington, DC this weekend. His North American tour does not wrap until May 8, so it may be some time before these two can go on a honeymoon. That may also make the rumored second wedding in France difficult.
There is no official confirmation yet from anyone, but it seems like it's just a matter of time. Good for Beyonce and Jay-Z for marrying sort-of under the radar while managing to have a party for their friends that was virtually press free. We'll have to see if any wedding photos come out and if that story that Beyonce's dad was trying to broker a deal for exclusive pictures was true.
Here's a video of Gwyneth Paltrow and her husband Chris Martin arriving at the wedding. Gwyneth covers her face with her hand while Martin hunkers down, and the paparazzi surround and follow them like zombies hungry for brains. Thanks to OK! for posting this.

Beyonce's sister Solange arriving at the wedding, thanks to WENN.