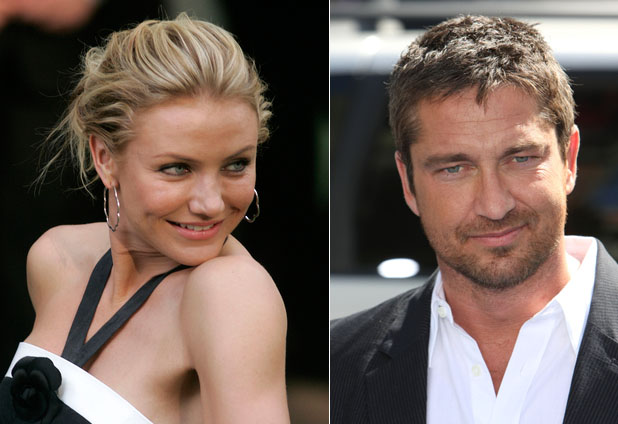 The Mirror is reporting that Cameron Diaz, 35, has been dating Scottish beefcake Gerard Butler, 38. I doubt this is true, not because I couldn't see these two together, but because The Mirror has a tendency to make up and heavily embellish stories, and this seems to have originated with them. And unreliable Star Magazine reports this week that Butler was photographed having a romantic lunch and going for a walk on March 21 with actress Laura Harring, 44, who starred in Mulholland Drive. Maybe everyone is single and hanging out, or perhaps there's something going with Butler and Diaz and/or Harring. For what it's worth, here's The Mirror's report:
My spy in LA caught them sharing drinks at Shutters Hotel last week. He told me: "They walked up to the balcony area to look at the sunset. He had one arm round her waist and the other on the small of her back. She kept giggling and touching his chest to whisper in his ear. They obviously had a good night."

Cameron, 35, and Butler, 38, have also been out at Teddy's Bar in the Roosevelt Hotel in LA, where fellow clubbers say there was a lot of "thigh touching".

And a couple of days before that they dined at The Chateau Marmont hotel.
[From The Mirror]
They could have been together several times, but I'll wait and see on this one. There are places listed where they were sighted but the dates are not given, they're just general like "last week" and "a couple of days" and those are all paparazzi hot spots. Wouldn't there be pictures of them going into or out of those places, not necessarily together? The Mirror is so full of crap usually.
For her part, Diaz says she's happily single, but acknowledges that she can be intimidating to men. (eyeroll)
She said: "It's been nice not having a boyfriend for the past year. In fact, it's the first time I haven't had one in 10 years and I'm enjoying what I'm getting out of this moment.

"I could be in a relationship if I wanted to be but I haven't finished doing what I'm doing. But when I'm in a relationship I'm very loyal and committed. I give a lot."

"I do get asked out. It's fun. But I'm a lot of woman – in a lot of ways.

"And I understand that can be intimidating."
[From GQ interview via Stuff.co.nz]
Cameron probably sings "I'm every woman" in the shower in the morning while she lathers up.