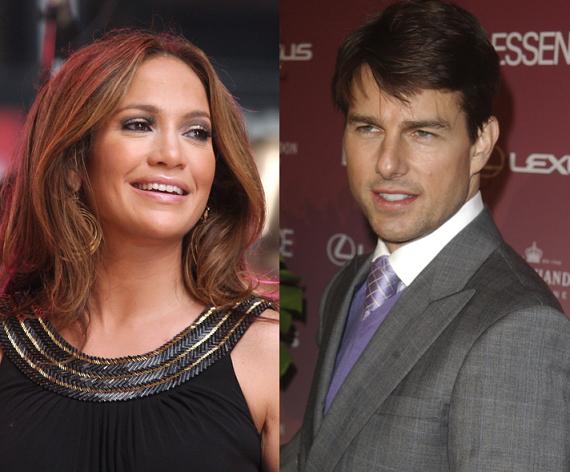 There are few things that are even close to as scary as having Tom Cruise as your dad. Except maybe having Xenu as your dad. But let's be real – that's just about the same thing. The next closest approximation would be having Tom Cruise as your godfather. On the one hand, he's a little further away and probably won't ground you. But on the other hand, that means your parents actually consciously chose to bring Tom Cruise into your life. It's not like you were born to him and it's just a sad twist of fate. Your parents thought so little of you that they decided to make Xenu's next in command responsible for your spiritual and emotional well-being. Well, if you want to take the old school approach to being a godfather. There's the chance they just did it to get you some really killer swag.
Jennifer Lopez and Marc Anthony – who have long claimed to be Catholic and not Scientologists – supposedly want Tom to be the godfather to twins Max and Emme. But to be fair, Tom has already gifted the babies with more than $200,000 worth of stuff. If that doesn't buy you a godfathership in this day and age, I'd like to know what does.
Jennifer Lopez wants to Tom Cruise to be godfather to her newborn twins. The 'Jenny From The Block' singer — who gave birth to son Max and daughter Emme on February 22 — has convinced husband Marc Anthony to give Tom the role despite their differences in religious beliefs. Tom, a devout follower of the mysterious religion of Scientology; Lopez and Anthony Catholic.

A source said: "Tom is delighted. Marc wasn't sure if it was a good idea to have a Scientologist as the kids' godfather, especially as he and Jennifer are both Catholic. But in the end Jennifer managed to convince him to agree."

Tom — who has a 2-year-old daughter, Suri, with wife Katie Holmes — has already showered the twins with gifts. The actor reportedly spent around $200,000 on designer christening outfits for Max and Emme, ordered a giant fish tank for their nursery and gave them complete Disney DVD box sets.
[From Showbiz Spy]
Supposedly Tom and Katie are going to throw a "star-studded" party for the twins that's costing them upwards of $200,000. It will have a "Welcome to the World" them. I have to give Tom credit – he certainly knows how to buy someone's love. I don't want to sound spineless, but if Tom wants to through $400,000 worth of stuff my way, I can totally be talked into changing my tune.