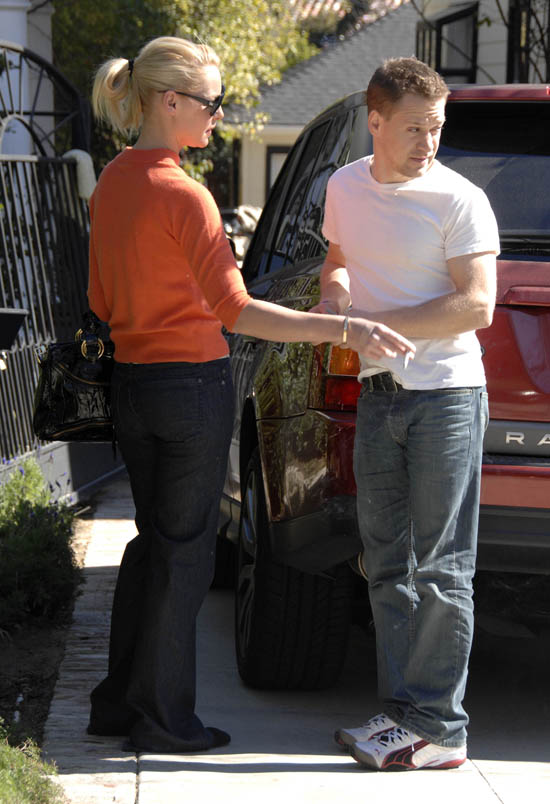 Katherine Heigl has done something we've all been guilty of – flirting with a co-worker. The male stars of Grey's Anatomy are mostly a little old for Katherine, or married, or gay. She found out the hard way when T.R. Knight resisted her initial advances:
The 'Knocked Up' beauty was single when shooting began on the hit US show – and 35-year-old hunk Knight caught her eye.

But the actress' romantic plans didn't make result in any romantic liaisons – because her lustful looks were ignored as Knight is gay.

She says: "When we were filming the pilot I was single and so was he and I kind of had my eye on him. I was getting nowhere and I was super-confused.

"I was like, 'Hello? Do I have something hanging out of my nose? Why aren't you paying any attention to me? Needless to say, it quickly became a friendship once he told me."
Katherine got over her rejection pretty quickly and hooked up with sensitive crooner Josh Kelley, and then made no secret of her desire to get married.
She said: "I didn't propose to Josh – but I suggested strongly that he should propose to me. One day we were sitting in my house, chatting and having a glass of wine, and I said, 'How do you feel about marriage? Where do you feel this relationship is going? Because I don't just want to date anymore.

"I had got to the place in my life when I was ready for a commitment. He was so nervous when he actually did it – I found it really endearing!"
He must have been nervous about the lifelong commitment, because it's not like he had to worry whether she would accept.
Kelley has a new album out, his first since he married Katherine, where he seems to be rubbing our faces in how lucky he is. His lyrics on the album include "She's so damn pretty" and "She's unbelievably sexy" and the extra romantic "Cheers to you honey, because you look so money." Couldn't he have found a better rhyme?
Katherine Heigl and Josh Kelley are shown below at the "27 Dresses" premiere on 1/7/08, thanks to PRPhotos. Katherine Heigl and TR Knight are shown in the header image outside her house on 2/8/08, thanks to Splash News.