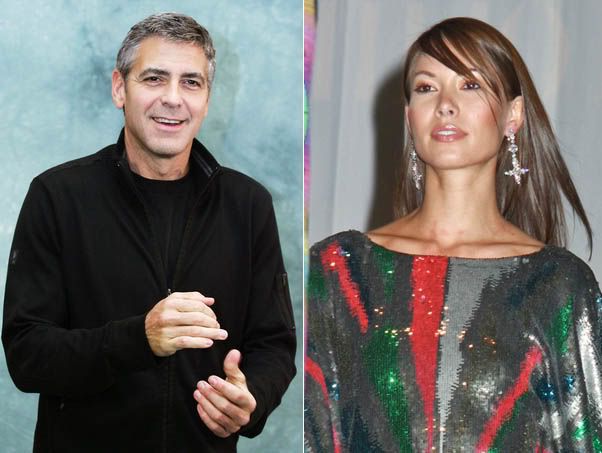 George Clooney is overseas promoting his football comedy Leatherheads, along with his co-star Renee Zellweger. Clooney and Renee attended the London premiere of the film on Tuesday, and posed for a photocall in Rome yesterday. When asked where his girlfriend Sarah Larson was, Clooney said that she was back in LA. Larson attended the Los Angeles premiere of the film on Clooney's arm on March 31.
One of Larson's obligations back in the states was a charity fashion show luncheon at the Four Seasons Hotel in Las Vegas yesterday. She modeled two striking Pucci gowns at the Clark County, Nevada Medical Society Alliance Silent Auction and Fashion Show. She may have been a recent addition to the charity event, because a press release put out a month ago makes no mention of her, and she is not listed on the event page of the organization's website.
Clooney is said to have vigorously defended his girlfriend against an unknown prankster calling his voicemail and telling him to dump Larson. Someone called him saying "Dude, your friends asked me to give you a message: Dump the bitch before you're sorry!" Larson told the New Yorker in an upcoming story about the call that she's not a stripper or an escort and that her bad reputation is not deserved. Clooney tried to figure out who made the call and had the number traced. It led to a pre-paid phone cellphone that could not be linked to an owner.
As to how a cocktail waitress and former Fear Factor winner can get a charity event worldwide coverage, it's all due to Clooney. His star power has certainly transformed the life of the woman he choses to accompany him, but it's not quite enough to make his new film a hit.
Leatherheads opened at second place its first weekend at the box office, and many Hollywood insiders see it as a sign that Clooney's box office draw isn't quite what it used to be.
Thanks to PRPhotos for these pictures.