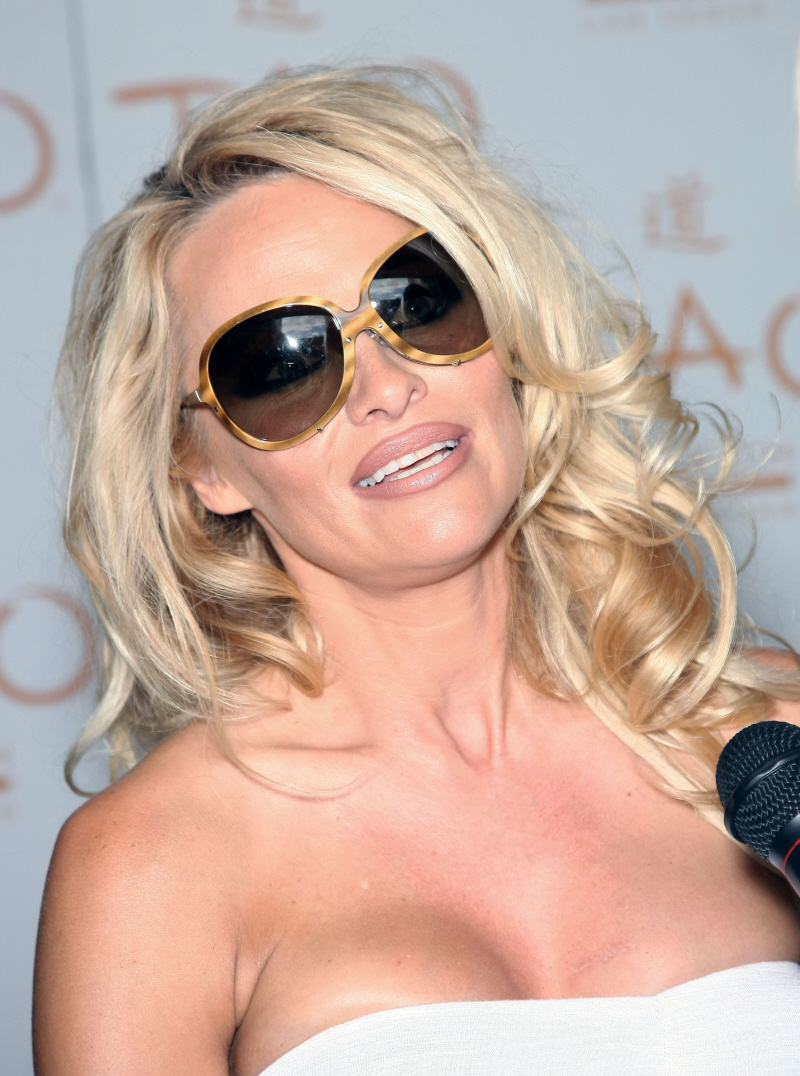 The last time we checked in with Pamela Anderson's broke ass, she looked like hot death at some event in England. Less than a month later, she's back in Las Vegas, and she's looking okay. Perhaps the sunglasses are fooling my eyes? With her sunglasses on, you can't really make out how jacked her face is, although there's a hint of it in her drawn-on eyebrows. Oh, and she just celebrated her 43rd birthday too. Does she look good for her age? Eh.
Whoops, did I say that Pam's face is jacked? I meant, "all natural". That's what Pam is claiming in a new interview in Fabulous Magazine, the Sunday magazine for The News of the World. She claims that she hasn't done Botox because it "scares" her. All of the sketchy men she's been with, and Botox is what scares her? The full article is here, here are some of the highlights:
On Botox and aging: "I haven't done Botox. I don't like all that facial stuff. It scares me. You see these people who have had it, and they all look the same. I just don't think I should go that way, especially at 43. I think I should just age. I've never been the prettiest person, and I don't feel I need to chase youth."

On being shocking: "There are two things about me that always shocks people: I'm always on time and I can take 40 outfits in one bag," she says. A feat of packing mastery? Or judging by today's outfit, perhaps it's because all her skirts are the size of a handkerchief.

On finally ending it with Tommy Lee: "I have tortured myself over it for years and was devastated and depressed for much of the last 15 years about that relationship. It's mostly about the kids. I think I've just tried to attach myself to anybody who'd create a family, but the people I attracted weren't really the fairy tale I planned. I think I'd just rather be alone and take care of my kids and wait it out. Something will happen one day. If not, my kids will look after me."

On being single: "It's a lot less annoying. It's nice. I have interesting, intelligent men to flirt with and then I come home. And I enjoy it."

Maybe she'll get back together with Tommy? "Tommy? Life's not over yet," she says. She looks sad for a moment, but then rallies. "Of course we love each other. But we don't have to live together. Romance is tragic, so let's leave it. My parents are still together and madly in love."

On her quickie marriage & annulment to Rick Soloman: "Well, it was annulled. So that tells you right there. He was a friend for a really long time. I think Las Vegas took its toll – too many bottles of champagne. We did something really silly and immediately rectified it."

On the sex tape: "I still have to talk to my kids about it all the time. There was a tape and we were very much in love and obviously you regret it, but you can't take it back and that's what you have to deal with." But she says she and Tommy were both happy to tape their infamous romp. "I don't think it's bizarre. I think a lot of people do it. I've never seen it. Tommy told me not to watch it. He said: 'You'll go crazy.' So I would never watch it." So, would she ever tape sex again? "No! I might never have sex again!" But she's laughing as she says it.

On her older son Brandon being protective and sensitive: "I like that wild spirit, and that's important. It's the toughest thing in the world to be a parent and I haven't given them the easiest thing in the world to deal with. They hear things in school – 'I saw your mum in Playboy' – and all that. Brandon is very protective. Things will get to him. He's very emotional. He says: 'Dad? I don't care what they say about him. But if they say anything about my mum' He's very sensitive."

On Tommy Lee as a father: Do they spend a lot of time with their dad? "No, they don't. I think they will spend more time with him when they are older, but Tommy is eternally 16." She says this with sadness, not frustration. Does she not like them being with him? "No, it's not that. He spends as much time with them as he can. I just came to the realization that our relationship," she falters, then shrugs. "It just is what it is."

On being sued for hundreds of thousands of dollars because of her neverending Malibu home construction: "They [the contractors] were spending all this money on the house that I wasn't intending. Then I had to pay my taxes and people who owed me money couldn't pay me. It was my fault because I didn't manage it properly and I think I was an easy target. But everything's OK now."

Does she worry about sun damage? "No." She looks amazed. "The sun feels great. I don't put a lot of effort into myself with beauty products and haircare," she says. "I haven't had a facial for a while. I like to be natural."
[From Fabulous Magazine]
Eh. I think she's full of sh-t, talking about how she's not Botoxed or nip-tucked on her face, but I don't think she's, like, a Nicole Kidman or someone like that. I think Pam gets her lips done and she has something temporary done to her eyes, because lately, her eyes go back and forth from looking very strange to quite normal. I also think that she doesn't really care how leathery her skin looks after years of sun damage, so if she doesn't care, why should I? I found all of the Tommy stuff interesting too – I really think they're still totally in love with each other, even after all of these years. Crazy.
Here's a photo of Pam from a month ago…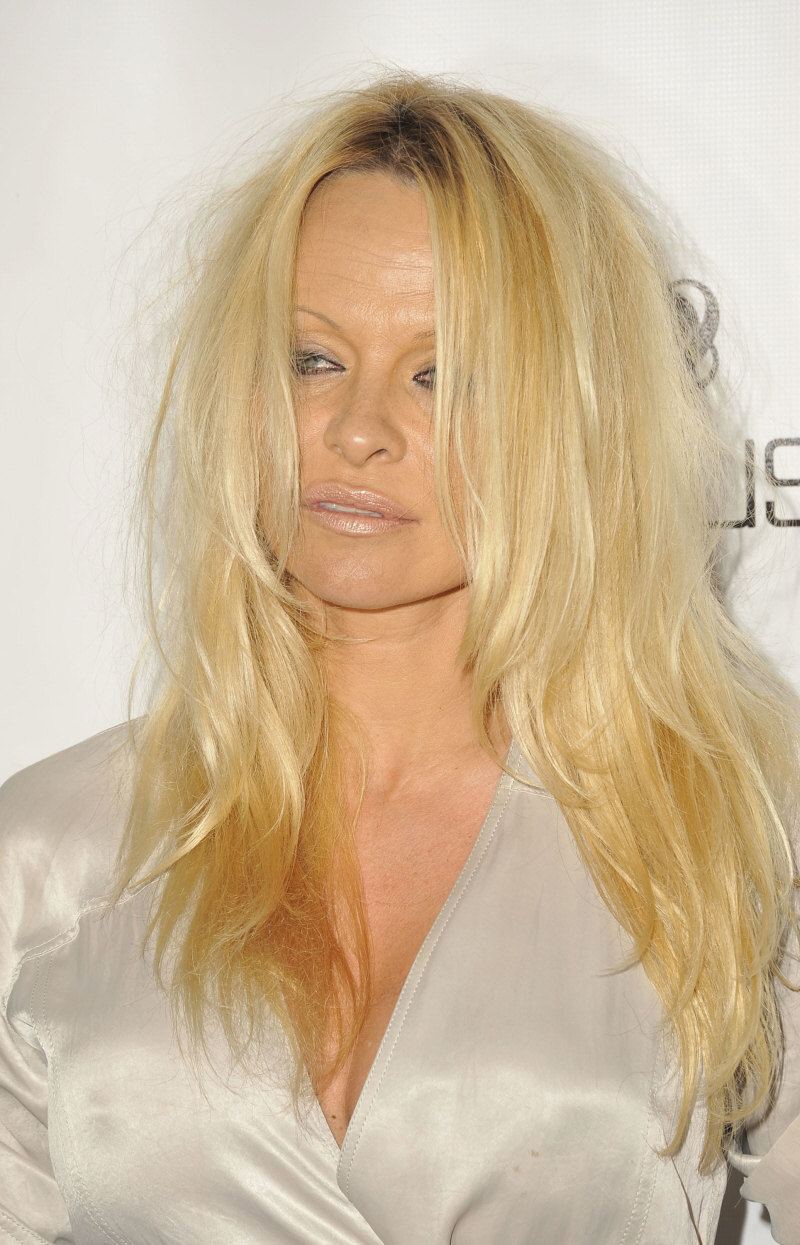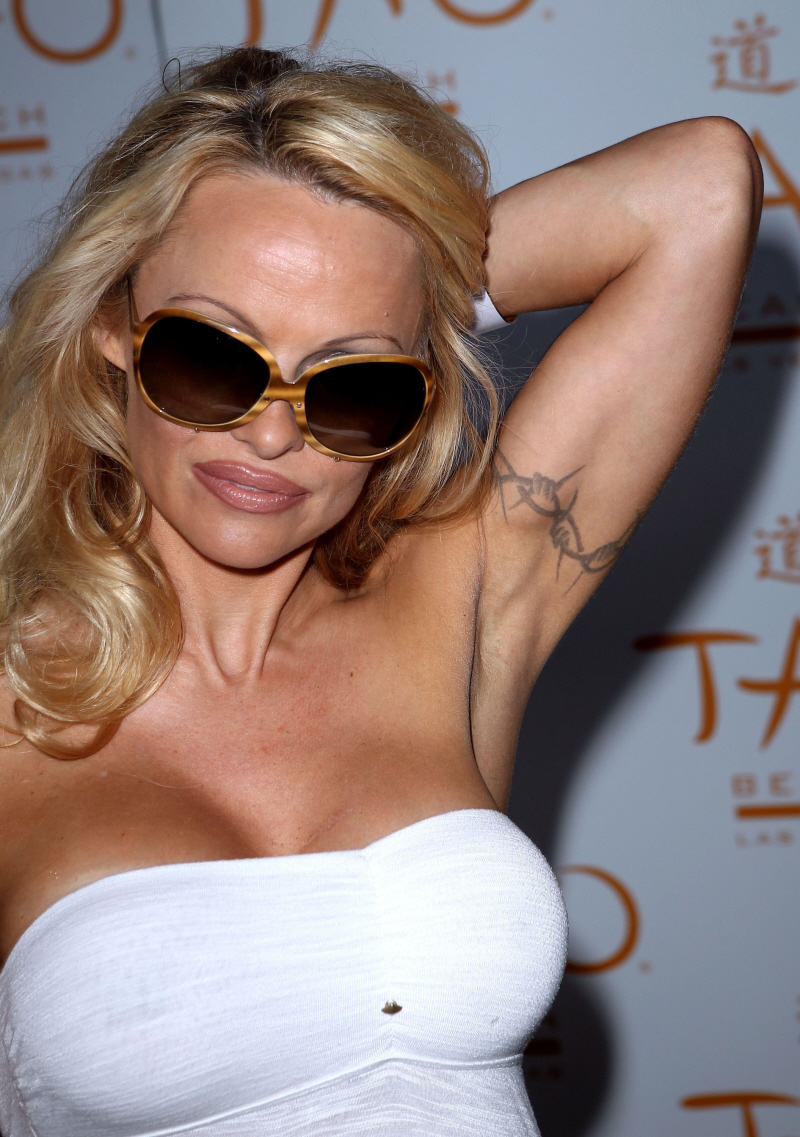 Pam on July 10, 2010 in Las Vegas, and on June 10, in LA. Credit: WENN.