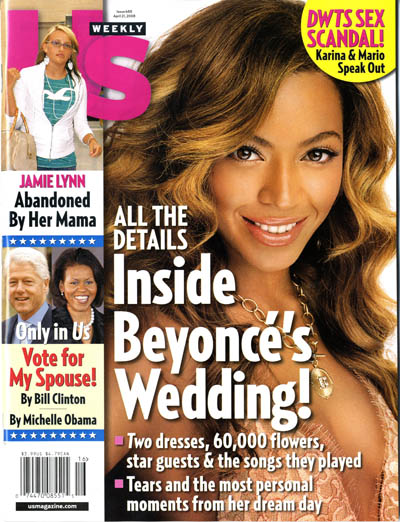 A new story in the NY Post brings up an interesting question: Are tabloid magazines racially biased? In the wake of the relatively light coverage of Beyonce and Jay-Z's wedding last weekend, some are speculating that the disinterest from the tabloids was racially motivated. Gatecrasher's Ben Widdicombe did some actual journalism for his column this week and found some disturbing results.
Are the celebrity media racist?

A top tabloid editor tells me that Jay-Z and Beyonce's wedding was played down by the weeklies because "African-Americans don't sell covers."

Of the big five celebrity glossies out midweek, only Us Weekly gave Beyoncé the top spot on the cover. Other magazines gave her second billing to the likes of Britney Spears, Jennifer Lopez and Jennifer Aniston.

"None of the magazines landed an exclusive on wedding pictures, which would have made the story bigger," said one tabloid insider, justifying why Beyoncé was relegated to a small cover box on his magazine.

But even wedding photos make less money for black stars, says another source. "Eva Longoria can get $1 million for wedding photos, but without the expectation of cover sales, Beyoncé might have gotten as little as $250,000 if she had sold hers," says a top editor.

Magazine publisher and black gossip pioneer Flo Anthony responds: "That sounds to me a very racist statement. Beyoncé is one of the biggest stars in the world, much bigger than Eva Longoria."

Anthony publishes Black Noir for women, as well as Toy Box, a black parenting magazine with a celebrity focus. She said: "It is hard for African-Americans in magazines. Only a few people, like Will Smith and Halle Berry, are mainstream. Editors really still think that only blond hair and blue eyes sell magazines."

As another tabloid source says: "We have a saying, 'Only Oprah.' Oprah is the only black celebrity big enough to put on our cover."

But Us Weekly editor in chief Janice Min tells me: "Janet Jackson has been on our cover twice, for two of our best-selling issues we've ever had."

Min is also the only non-Caucasian to helm a top celebrity magazine. She acknowledges there is a perception in her industry that black stars don't sell covers, but adds: "Typically, you will hear that discussion among a group of all-white editors."
I do agree that the tabloids tend to focus more on white celebs- especially the unholy trifecta of Spears, Lohan and Hilton. I'm not sure why- maybe there are more white celebs who are screwing up in public than black celebs? Or maybe, as the Gatecrasher article suggests, it comes down to money. However, comparing coverage of Eva Longoria's wedding to that of Beyonce's wedding is not a good analogy for this argument. Eva Longoria courted the press every step of the way when she got married- from the engagement to the wedding plans to the numerous ceremonies and parties. Beyonce and Jay-Z are both huge stars and if they had chosen to go the Longoria route with their wedding, they would have been on every magazine cover last week. However, the couple chose to get married under the radar- even their guests are staying mostly silent about the nuptials. The only reason US Weekly had the wedding on the cover is that Beyonce's sister Solange went to the mag with an exclusive. Other than that, the magazines didn't have any info on the wedding. If the couple had shopped wedding photos around, I'm sure there would have been a bidding war over them. But just like their long courtship was kept fiercely private, so was their wedding.
The latest US Weekly and People cover images from coverawards.com via Gossip Rocks.