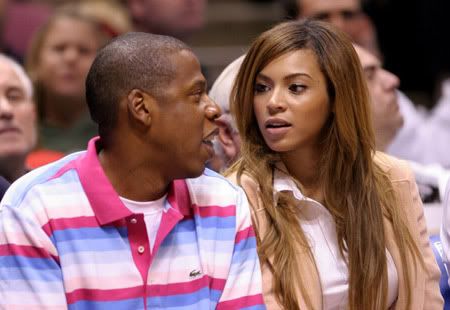 SocialRank claims to have an exclusive that Jay-Z and Beyonce are calling off their relationship due to too much time apart and too many conflicts. There was a rumor last month that they were getting married after Jay-Z lost weight on a diet supervised by Beyonce, but that was influenced by Beyonce's own success in the dieting department and didn't seem like a strong enough indication that they were preparing for a wedding:
New York's hip-hop royalty couple of
Jay-Z and Beyonce are ending their relationship before the walk down the aisle and anticipated stunner of the wedding dress
. After months of speculation the numerous sources attached very close to the couple confirm that Beyonce has had it with Jay-Z and his immature, champagne drinking impresario image. "She wants a man, who supports her, loves her, stand by her side", a source told SocialRank. "B is sick of him possessively trying to keep things private. She doesn't feel enough affection or love from him".
Jay-Z has been completely immersed with his Island Def Jam work for the last couple of months, while spending all his free time at the offices or games of New Jersey Nets. Beyonce meanwhile went to Cannes and to the Walk of Fame Induction ceremony all by herself, feeling lonely and unsupported. "Jay is obsessed with keeping basketball game scores" another very close source to the couple is saying. "Beyonce is looking to the future. Her sister Solange already has a baby. Her own parents have an amazing, fulfilling relationship and she not only wants a steady career, she wants to have tight family circle around her as well".
The Page Six publicized basketball game fight wasn't a first blow-out the couple has experienced lately. Private fights, ignored telephone calls, screaming arguments have been the theme of the couple's last couple of months. "It has simply become too much", a source confides. "Beyonce realized that two of them just might be incompatible and their relationship is really a lie they both were trying to believe in". They came together to LA Reid's birthday bash last week and put on the "happy couple" show. But inside out source observes. "Beyonce simply feels empty. She wants to spend this important Dreamgirls year for her with someone who understands her and relates to her a lot more".
[via]
It sounds like they're both too busy to spend time together, and that Jay-Z is too focused on sports and partying to settle down. That is really common and I have dated guys like that. As much as you love them, you have to move on to someone who has the same goals in life and is ready for a long term commitment.
Beyonce was said to be jealous of Jay-Z's very close working relationship with hot singer Rhianna, but it doesn't seem like Jay-Z and Rhianna were having more than a flirtatious friendship.
There is only a single source for this news now, so until it's confirmed and reported all over we aren't sure it's true. Even if it's spot-on, it will probably be a while before the breakup is acknowledged.
Here are Beyonce and Jay-Z taking care not to be photographed together as they leave a NY hotel on 6/12, and some candids of Beyonce in NY alone on 6/15. [via]