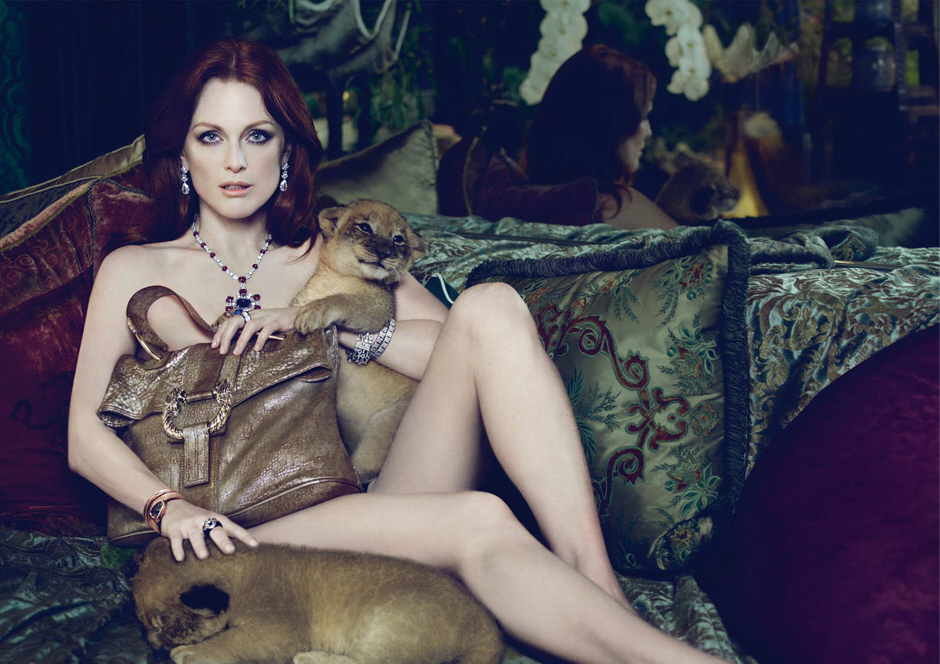 My first reaction when I saw these beautiful Bulgari ads, starring none other than that magnificent, flame-haired bitch Julianne Moore is "aww…" Who can see past the adorable lion cubs to actually check out the merchandise? And I mean "merchandise" as in "Julianne's firecrotch". Julianne has been the face of Bulgari's full 2010 line, from their Spring and Summer collections, to these ads for Fall and Winter. The ads were shot by photographers Mert Alas and Marcus Piggott. Is Julianne retouched? She looks a little frozen, but I don't think it's Bo to the 'Tox, I think it's just some 'Shop. Guess how old Julianne is? Forty-f-cking-nine. Magnificent!
Frockwriter cleverly refers to these ads as "Bulgari's LOLCats". But they also mention in passing that PETA hasn't said anything about this yet. Now, I doubt these lion cubs were abused or mistreated in anyway – except maybe that one missed his nap? Aw… and is it really appropriate to use these little babies as glorified beaver-covers. I mean, it's ART! But I digress. You just know PETA will have something to say. Yes, I'm baiting them. I want a chance to use these adorable ads again.
By the way, Julianne is out and about promoting her role in the already critically-acclaimed independent film The Kids Are Alright. It's about a lesbian couple (played by Moore and Annette Benning) who have kids via the baster, and when the kids want to know who their biological father is, they track him down – and it's Mark Ruffalo. Ruffalo's character enters their lives, and chaos ensues. Here's a good Julianne Moore interview, and here's Lainey at LaineyGossip raving about the film.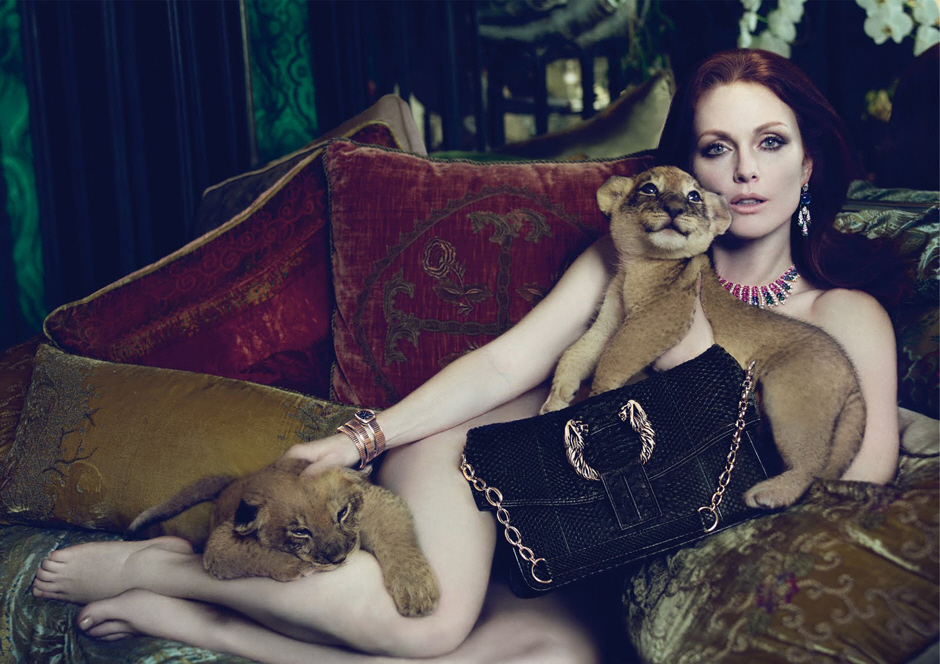 Ads courtesy of HuffPo.