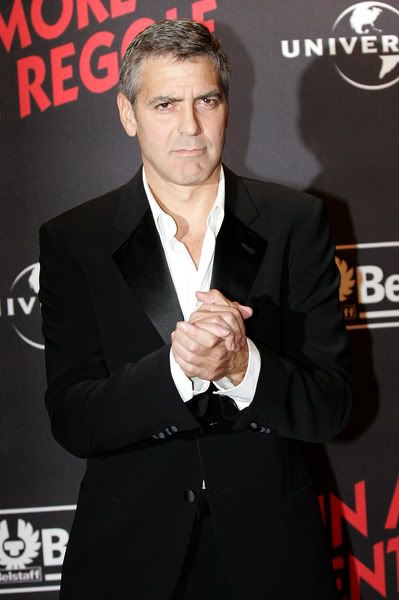 According to The National Enquirer, George Clooney has a small memorial to marriage in his mansion. He's taken his old wedding ring from his first marriage, to actress Talia Balsam from 1989 to 1993, and strung it on a ribbon tied to two candlesticks along with the rings from three of his friends. They say that Clooney uses the display to show that he's not getting married again:
"George has assembled an anti-marriage shrine by stringing his old wedding ring and those of three other buddies on a ribbon and tying it between two candlesticks," a friend told The Enquirer.

"It's not like he has anything against the institution of marriage, it's just not for him. He doesn't think a piece of paper telling you you're married makes much sense. George's homemade memorial is his personal tribute to staying single…

"But as far as tying the knot again, George has said 'Been there, done that, won't do it again,'" says his friend. "That's how he's explained his wedding ring memorial."
You could see Clooney doing this for laughs but being serious about it at the same time, like he has to remind himself what he and his friends went through. Whenever I think about Clooney and marriage, I'm reminded of his cad divorce lawyer character in Intolerable Cruelty who got scammed into married scheming Catherine Zeta Jones' character without a prenup. I know that's just a film, but I can't help but think there are parallels to Clooney's life. It's like he knows he doesn't always think with his head and is trying to keep himself single by force of will.
Clooney's latest and surprisingly long-lasting girlfriend, former cocktail waitress Sarah Larson, recently told a Las Vegas reporter that she met the famous actor a few years ago at a party, but wasn't available to date him until they saw each other by chance at the Ocean's 13 premiere. Clooney is rumored to have broke up with Larson briefly in mid March when he suspected she leaked the rumor that they were engaged in order to pressure him into popping the question. He is said to have reconciled with her after telling her there was no way in hell he'd ever marry her. I see a theme here. It could have been created by the tabloids, but it does have a ring of truth to it.
George Clooney and Rene Zelwegger are shown at the "Leatherheads" premiere in Rome on 4/10/08, thanks to PRPhotos. They sure look friendly.