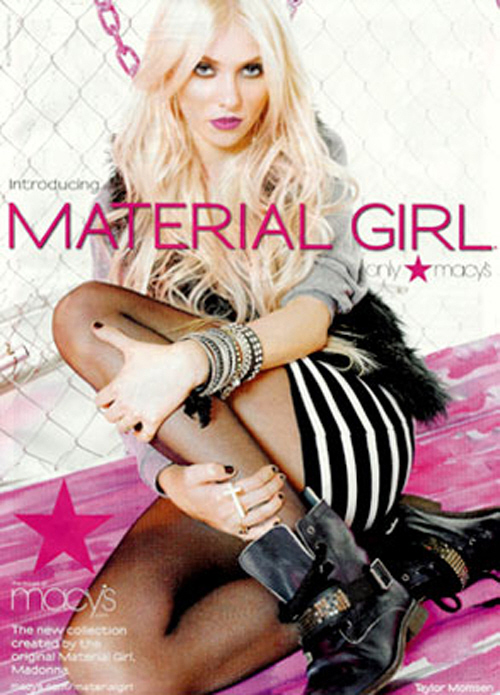 Guess who's the hardest bitch in all of America? Little Taylor Momsen of course. We can usually identify her with her rancid smell of underage cigarettes, Wet 'N Wild eyeliner, an undercurrent of chafing, a healthy dash of bleach and the subtle note of rebel. But here she is in a new ad for Macy's! She's the face of Material Girl, the new clothing line for tweens, designed by Lourdes and Madonna. You know what? If Taylor wasn't such a little inappropriate brat, I'd say she's the perfect model for the collection. But since I know she's so horrible, all I can say is: "SELL-OUT!!!!"
Gossip Girl and "Material Girl"? Madonna and her daughter Lourdes have teamed up to launch their Material Girl line for Macy's and have chosen Taylor Momsen as the face for their ad campaign! The 16-year-old rebel rocker and actress will be the face for Material Girl's Fall ads. The collection, which features back to school basics, also has some edgy, rocker-esque pieces.

Taylor has received a lot of attention for her own fashion sense; however, it hasn't all been positive.

At least she is wearing something to cover her bum in this ad — the young actress is known for wearing no pants, pairing shirts with ripped tights.

Wonder how Taylor's partnership with Madonna and Lourdes will go?
[From OK! Magazine]
Good to know Lola and Taylor are on the same page for the pantless movement. Moms, please do not let your daughters go out looking like this, for real. Leggings? Eh, maybe with an oversized shirt. Mini-skirt and tights? Okay, but not everyday. Total pantlessness? Never.
Because this is what Taylor looks like in her daily life… Madonna, get on this right away!