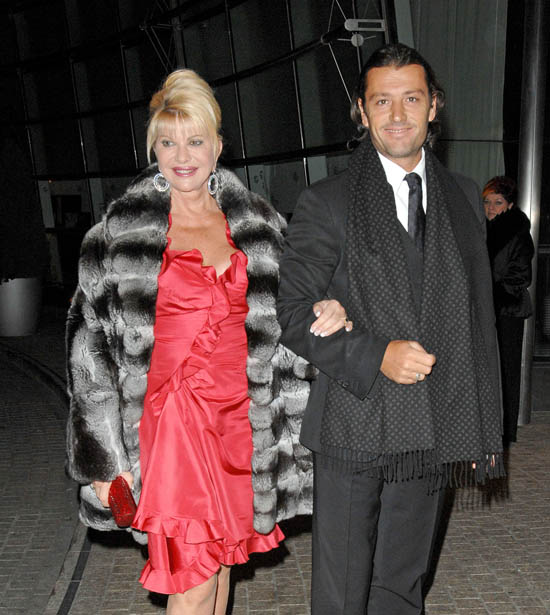 59 year old Ivana trump married her fourth husband, Italian actor/model Rossano Rubicondi, 35, in an over-the-top ceremony at her second husband Donald Trump's Mar-A-Lago estate in Palm Beach on Saturday. They held their reception in the same ballroom where Trump married his third wife Melania in 2005.
Among the 500 guests were Kathy and Rick Hilton, Robin Leach, George Hamilton, and Brigitte Nielsen. The theme from Rocky played as the young groom entered the ceremony, and Neil Sedaka sang at the reception.
People promises to have the exclusive photos in their next issue, but OK! reminds us that Trump and her much younger husband don't have the calm and romantic relationship their garish nuptials might lead you to believe.
Ivana and Rossano both called 911 on each other on March 17 after an argument. Rossano called first, and police came to Ivana's Palm Beach home, searched and left. Ivana called 911 again two hours later, saying "What's going on is that I have a boyfriend which [sic] I want to leave my home and he called the police before and he's abusive."
No one was arrested, and Rossano was cuffed and released. The NY Post reported this story at the end of March, and quoted a source as saying that "They've been fighting ever since they met each other, and the only reason anyone can imagine for why they are getting married is for the publicity." The Post also noted at the time that OK! Magazine had brokered an exclusive $1 million deal for the wedding photos, but obviously that fell through and People must have outbid them.
Now we know why OK! is so quick to remind us that this marriage is probably doomed.
Ivana and Rossano are shown out to dinner on Valentine's Day in NY, thanks to Splash News.