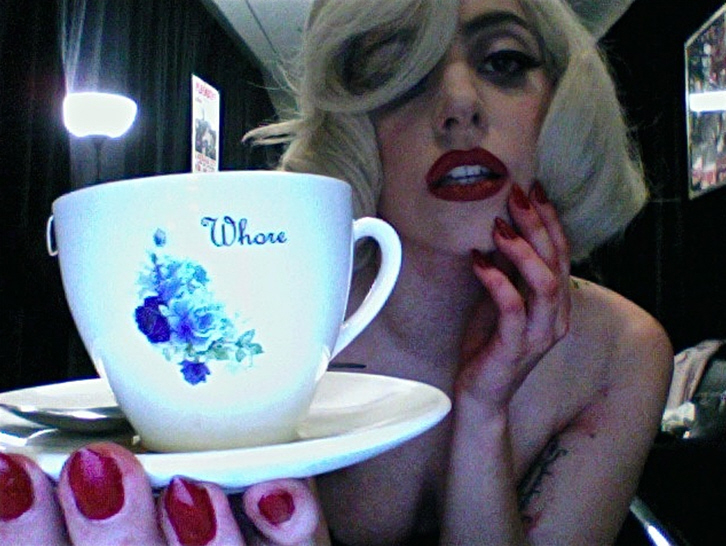 Did you know that Lady Gaga is a hardcore tea-drinker? True story. I think I've read that in various interviews, but I never really thought to myself, "I bet that's something interesting." Don't most singers drink a lot of tea? I know when I have a sore throat, some tea with honey works really well. Whatever, Gaga loves her cuppa tea. And now she's got tea companies – already dwindling from a growing international consumer base of coffee drinkers – fighting it out to see who will get to sign Gaga to an exclusive endorsement deal. The front runner is Twinings (I have a couple of boxes in my cabinet!), and they want to create a new tea that Gaga can be the "face" of – "The Taste of Gaga". What does Gaga taste like? Crusty old makeup and boob flames, I guess.
LADY GAGA is at the centre of a bidding war – to save tea from hot water. With sales of the traditional form of the drink falling, oddball GaGa – who famously loves a cuppa – has firms fighting to sign her as a brand ambassador.

In the past few weeks GaGa's management have received offers from all the major tea brands. But at the moment it's old English firm Twinings who seem most determined to sign her. The company, which dates back 300 years, has made GaGa a multi-million-pound offer to be the face of their specialist teas. If it comes off, it will be a marketing dream come true.

Apart from the Queen, GaGa is the most famous tea drinker in the world. And I couldn't resist mocking her up as a traditional tea lady.

A source said: "Her management have received a load of offers from major tea companies but Twinings are the front-runners. They want to launch a new tea with her face on it and discussions are taking place at the top level. Names like The Taste Of GaGa are being batted about. The idea is to have tasting sessions in which she would participate."

"The tasters are coming up with a tea with an oriental flavour. They want to market tea to a new, younger generation – particularly in America, and GaGa is making drinking tea cool again."

Lady GaGa – real name Stefani Germanotta – is hardly ever without her trusty teacup and saucer. ELTON JOHN presented her with one of his priceless vintage teapots as a thank-you for performing at his White Tie And Tiara Ball last month. But it was her appearance on JONATHAN ROSS's BBC1 show last year which made people much more aware of her obsession with the brew. She brought her own cup and saucer on to the show and sipped ginger tea throughout the interview.

Normally GaGa doesn't like to rush into commercial endorsements – which I admire. She recently knocked back a number of perfume offers, whereas other celebrities can't wait to get their mugs on a fragrance bottle.
[From The Sun]
I give Gaga credit for not going down the perfume route too – and I like what Gaga has chosen to promote thus far. She's already taken a major role at Polaroid when she signed on as their global ambassador. Becoming the face of tea bags everywhere (giggle) could be an awesome move. I would buy "Taste of Gaga". But only if it tasted like Lemon Zinger, or green, of Earl Grey.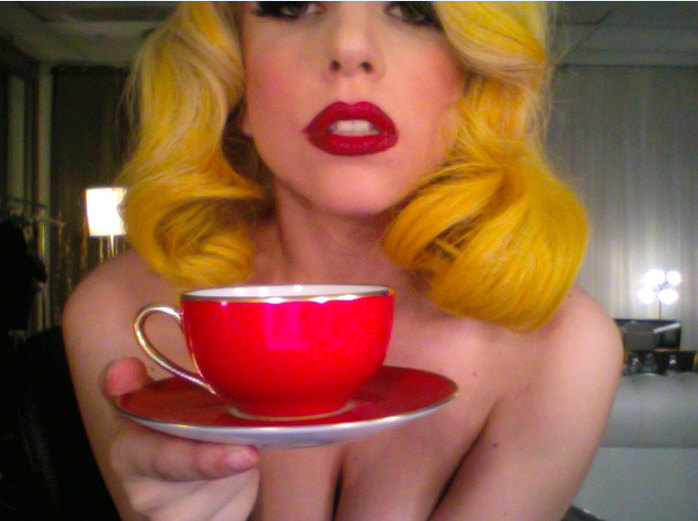 Twit-pics courtesy of Gaga's Twitter.