Whoopi Goldberg was visibly wasted and slurring her words on Monday's episode of The View. Bossip has a more complete video than the editorial from CNN above of the ridiculous and obvious way that Whoopi was impaired. (You can also watch the entire episode on Hulu, which is also below, but will only play if you're in the US.) Whoopi admitted that she was in Vienna over the weekend partying at an AMFAR benefit and said "I have to fly drugged, so I'm still slightly drugged, and I'm sure somewhere in me I'm still partying. If you see me struggling to read simple words… there's a reason." She did struggle to read simple words and to keep her composure throughout the show.
On Tuesday Whoopi was back on and seemed as normal as possible – for her. Bettheny Frankel was the guest co-host in place of Elisabeth. From the first part that I saw (on Hulu) Whoopi never addressed her drugged-out appearance the day before.
This reminds me of when Danny Devito was drunk on The View in 2006. Only in that case it got much more publicity. I'm sure the people at The View would like to sweep this under the rug. They didn't even address it the next day, like they often do with the minor controversies they cause. Is that show falling apart without Barbara there to whip everyone's ass into shape with her disapproving stares? Does anyone really care?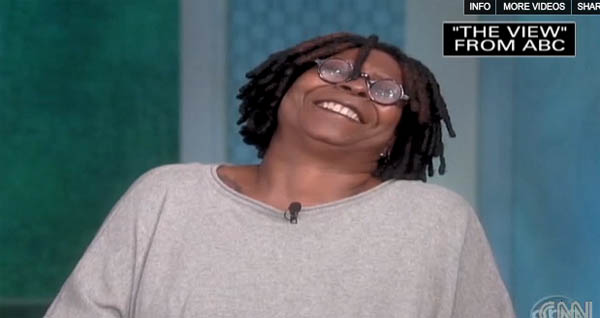 Here's the Hulu video of Whoopi's wasted day. It will only play if you're in the US and we're sorry for that!