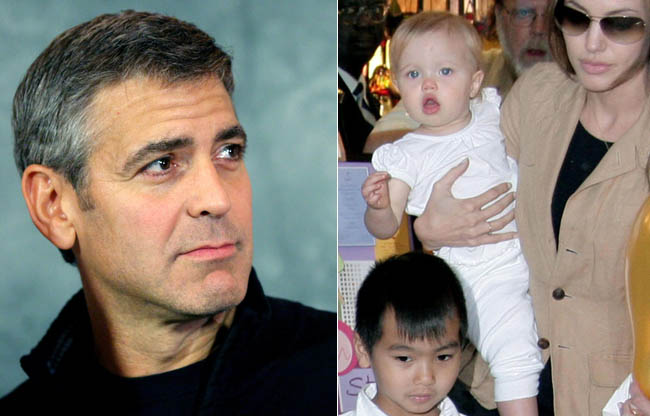 I think we all see those screaming kids in airplanes/supermarkets/movie theatres and think 'I shouldn't have kids'. I know I do, except it's usually my kids doing the screaming. George Clooney, the man with the anti-marriage shrine in his house, says he is put off babies by none other than the Jolie-Pitt clan.
He said: "Even one kid running around my villa makes me nervous, so I'm definitely not a candidate for father of the year!

"If I need to surround myself with children and feel like I have this big extended family, I can always call Brad and Angie and ask them to stay with me, just to remind me why I'm so happy without."

Clooney, 46, also said he is unlikely to invite the celebrity couple to stay in his villa on Italy's Lake Como this summer because he doesn't have the room to accommodate their ever-expanding brood.

He added to Britain's Heat magazine: "I really don't have enough space for all their children. Also, Brad and Angelina need a security deal of about 20 guys wearing dark suits and carrying walkie-talkies, and that tends to attract attention."
While the rest of us say 'oh, look at those cuties (how much does Shiloh look like the Gerber baby?) he says 'Please, just don't touch anything!'
I'm kind of on George's side here. I think just about anyone is intimidated by the idea of 5-6 kids. Sure, when they're small you can have nannies to do a lot of the dirty work (even the most devoted parent has no enthusiasm for poopy nappies) but have Brad and Angelina considered what it is going to be like to have six hormonal teenagers hanging about the house? I mean, every teen on earth harbors resentment towards their parents, can you imagine six kids all directing that at you?
Brad and Angelina are expecting another baby, or maybe two.