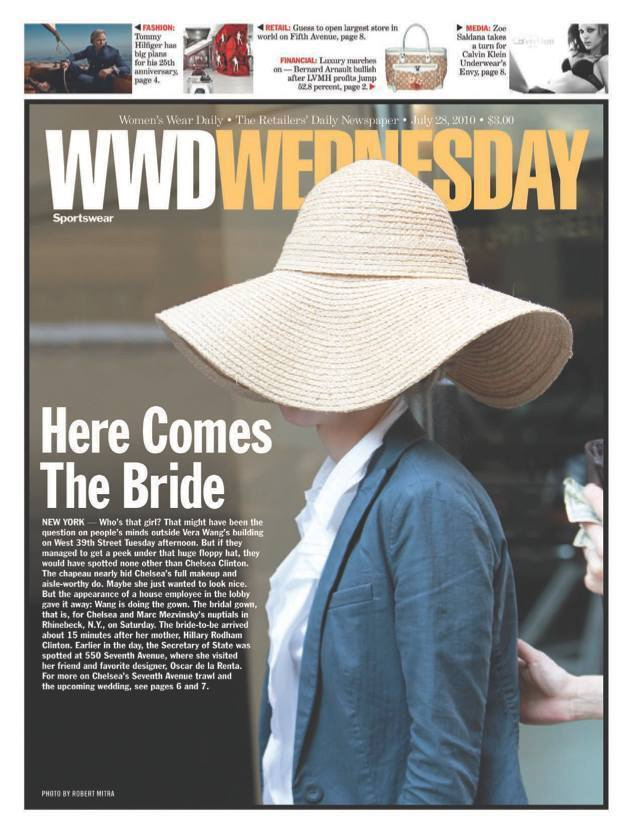 Chelsea Clinton's wedding is happening any day now! Everybody is pretty excited, and many think that the wedding will be the social event of the summer. The Clintons have so many well-connected friends, and given that Chelsea is their only child (and a beloved child at that), I'm getting the feeling that both Bill and Hillary are encouraging Chelsea to spare no expense for this occasion – the wedding is expected to cost upwards of $5 million. Above is today's cover of Women's Wear Daily – a floppy-hat-wearing Chelsea entering the Vera Wang store in NYC. Most sources are pretty confidant that Chelsea is going with a Wang wedding gown, which is a smart and classic choice. Although – Hillary has been seen around Oscar de la Renta's store, so there was some gossip Chelsea could go old-school princess in de la Renta. My guess is that Hillary is the one who will wear de la Renta, something beautiful and conservative, befitting the Mother of the Bride. Anyway, no designer is talking to the press.
It's pretty much established that Chelsea will have her ceremony and her reception at the Astor Courts in Rhinebeck, New York, and that the Clintons are staying at the home of Eric and Andrea Colombel – Andrea is the daughter of George Soros, a longtime Clinton supporter.
As for the groom, his name is Marc Mezvinsky, and little is known about him. He seems just as secretive and quiet as Chelsea, and they've been together for several years. Just the fact that we know so little about him makes me think that he's perfect for Chelsea. The Early Show did this profile on him:
And finally, yes, Pres. Obama is not going to make it. My guess is that it's not some sort of Obama-hates-the-Clintons story and more about Pres. Obama not wanting to pull focus from the bride, plus he doesn't want to turn her wedding into a SWAT convention with all of the added security.
How much do you think Bubba is going to cry? My guess: buckets.
WWD cover courtesy of HuffPo.