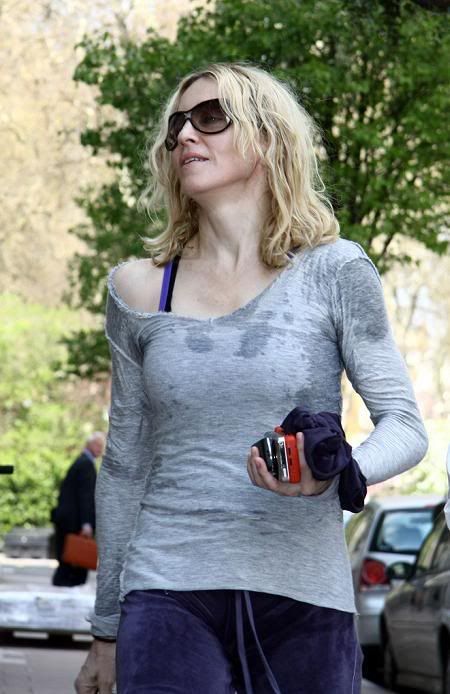 I give Madonna a lot of shit. Nine times out of ten, I really can't stand the woman, what with her fake accent and over-muscleyness. But I gotta hand it to her, Madge makes bank, and I'm pretty sure I'd be willing to trade lives with her… right about….. now. Because it turns out Madonna is set to break another record – she's being paid $24 million for just two short shows at the end of her current concert tour. As annoying as that is, you've got to give the lady props for her business skills.
When Madonna first moved to New York in '77, she had $35 in her pocket and landed a job at Dunkin' Donuts. Now the material girl, who will turn 50 in August, is set to make more than $24 million dollars for performing just two gigs in Dubai, where she's scheduled to end her forthcoming world tour in November. The first show, which the Sun reports may only last about 90-minutes will earn The Queen of Pop roughly $15 million dollars.

The additional $10 million will come from a second show hosted at a millionaire's private party. She reportedly refuses to perform at private fetes for less. If all goes through, Madonna will make history once again for playing the most lucrative concerts of all time.

Gulf audiences are growing increasingly interested in American pop music, as evidenced by the launch of MTV Arabia… But the four-day round trip to Dubai means if a rock star is going to play in your 'hood, it's going to cost you.
[From the New York Daily News]
Madonna signed with concert promoter Live Nation last year to the tune of $120 million. She's the highest earning woman in music, and brought in an estimated $72 million between June of 2006 and 2007. Whenever she talks, I want to wire her jaw shut. And tie her down so she can't go to the gym anymore. But clearly she's doing SOMETHING right – she's still at the top of her game at nearly 50 years old – and we've been talking about her for the last twenty-some years.
Here's Madonna leaving the gym looking very sweaty in London yesterday. Images thanks to WENN.