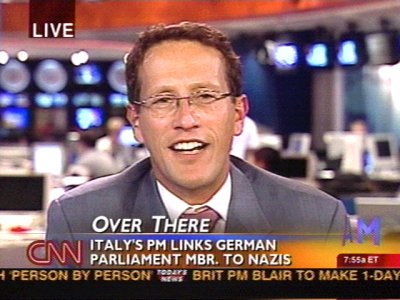 CNN reporter and business travel expert Richard Quest was arrested this morning by police in Central Park. He was originally detained for breaking the park's curfew (it's closed from 1 a.m. – 6 a.m.) at 3:40 in the morning. As he was being escorted out of the park by officers, he voluntarily told them that he had methamphetamine in his pocket. He was then arrested and was arraigned today on drug possession charges.
Richard Quest, a reporter and business travel specialist for CNN International, is being arraigned today on a misdemeanor charge of drug possession after the authorities said he was found with methamphetamine in Central Park.

The police noticed Mr. Quest at 64th Street and West Drive at about 3:40 a.m., the official said. As he was being escorted out, he volunteered, "I have meth in my pocket," according to an official briefed on the case. The police searched him and recovered a small amount of methamphetamine in a Ziploc bag.

Mr. Quest is a high-profile correspondent for CNN International, known for feature reports and profiles. CNN calls Mr. Quest, who is British, one of the network's "most instantly recognizable members." He hosts "CNN Business Traveler" and a feature program titled "Quest" for the news network. CNN had no immediate comment.
[From the New York Times]
Richard Quest is definitely one of the more recognizable reporters on CNN. He's known for his big grin and generally ebullient nature – and of course his distinctive British accent. He also was won the Funniest Newsman contest at Infohunks.
64th and West Drive is only five blocks up and about a block into the park from CNN's headquarters at Columbus Circle. Quest must keep pretty odd hours due to the nature of his job – he reports for both CNN and CNN International. One can only wonder if he was working at the studio late at night and left for… well obvious reasons. Richard Quest always has so much energy on the air – I always attributed that to him being a real character, but now I'm starting to rethink a bit.